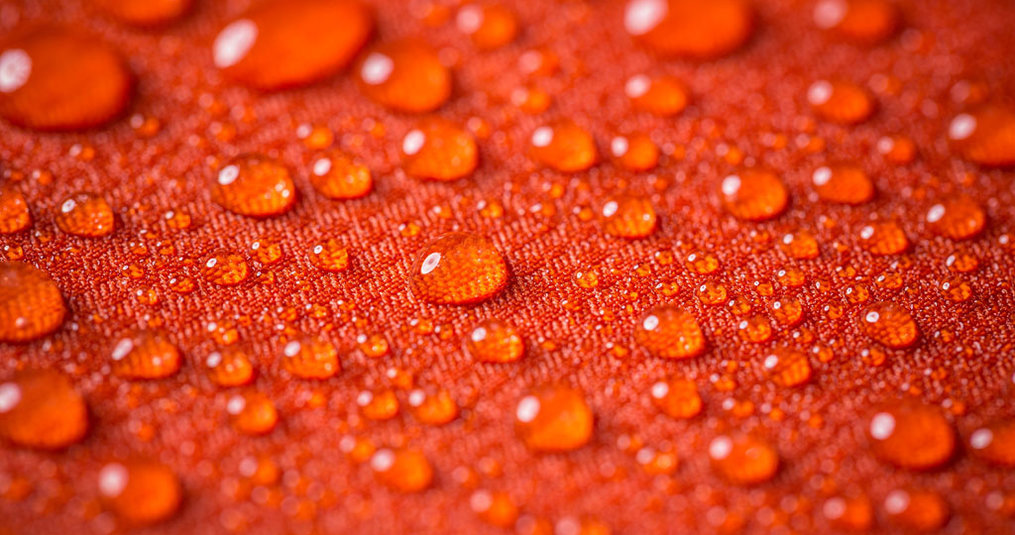 Just bought a new pair of new Gore-Tex trainers? Looking for information on the best way to protect them? Not sure about buying a pair of Gore-Tex motorbike boots? Will they stay waterproof for years to come? If so, how does it work? Get the most out of your Gore-Tex with these tips.
Tips and advice for maintenance and purchase
When you're out fishing, camping, or riding a motorbike, you ask a lot of your clothes. Comfort and waterproofing are vital. It's a difficult combination, because plenty of waterproof gear doesn't breathe and gets sweaty easily. That's why you should choose Gore-Tex. It's completely waterproof and breathes well. In this article, we'll tell you more about its uses and how to treat it so that you can enjoy your clothing or equipment for many years to come.
Gore-Tex clothing and equipment is often expensive. That means it's all the more important to keep it in great shape for as long as possible.
The material itself doesn't require intensive maintenance, but by periodically cleaning and impregnating it, you can enjoy it for even longer. Doing it properly takes some special attention.
So we're going to take you step by step through what Gore-Tex is, how to maintain it, and what you can do to keep it in excellent condition for years to come.
What is Gore-Tex?
Essentially, it's a special type of plastic that allows water to pass through as a vapour, but not a liquid. That's a useful feature, because when heat comes off your body water vapour comes with it.
What happens when your clothes can't breathe properly? The water vapour condenses inside and things get muggy. And of course that's uncomfortable. Gore-Tex allows condensation to escape, but keeps liquid water out. That's because even the smallest water droplet is much larger than water vapour particles.
Another advantage is that it's also completely windproof. It does not have any insulating properties itself, but it does prevent the wind from cooling you down. That also makes Gore-Tex a popular choice for outdoor activities and winter sports.
Gore-Tex jackets are usually made by high-quality brands, and you will recognise them by the Gore-Tex tape that seals the seams around the zippers. This guarantees that the jacket is truly waterproof. It means that Gore-Tex has a very high water column rating. So high, in fact, that you can call it a waterproof jacket.
Almost all high-quality outdoor sports equipment is available with Gore-Tex. There are two different types: Gore-Tex Pro and Gore-Tex Active.
Gore-Tex Pro is significantly more hardwearing than regular equipment. That's especially important for things like mountaineering and some other very active sports.
The Active version, on the other hand, is particularly light, which makes it perfect for endurance sports and activities.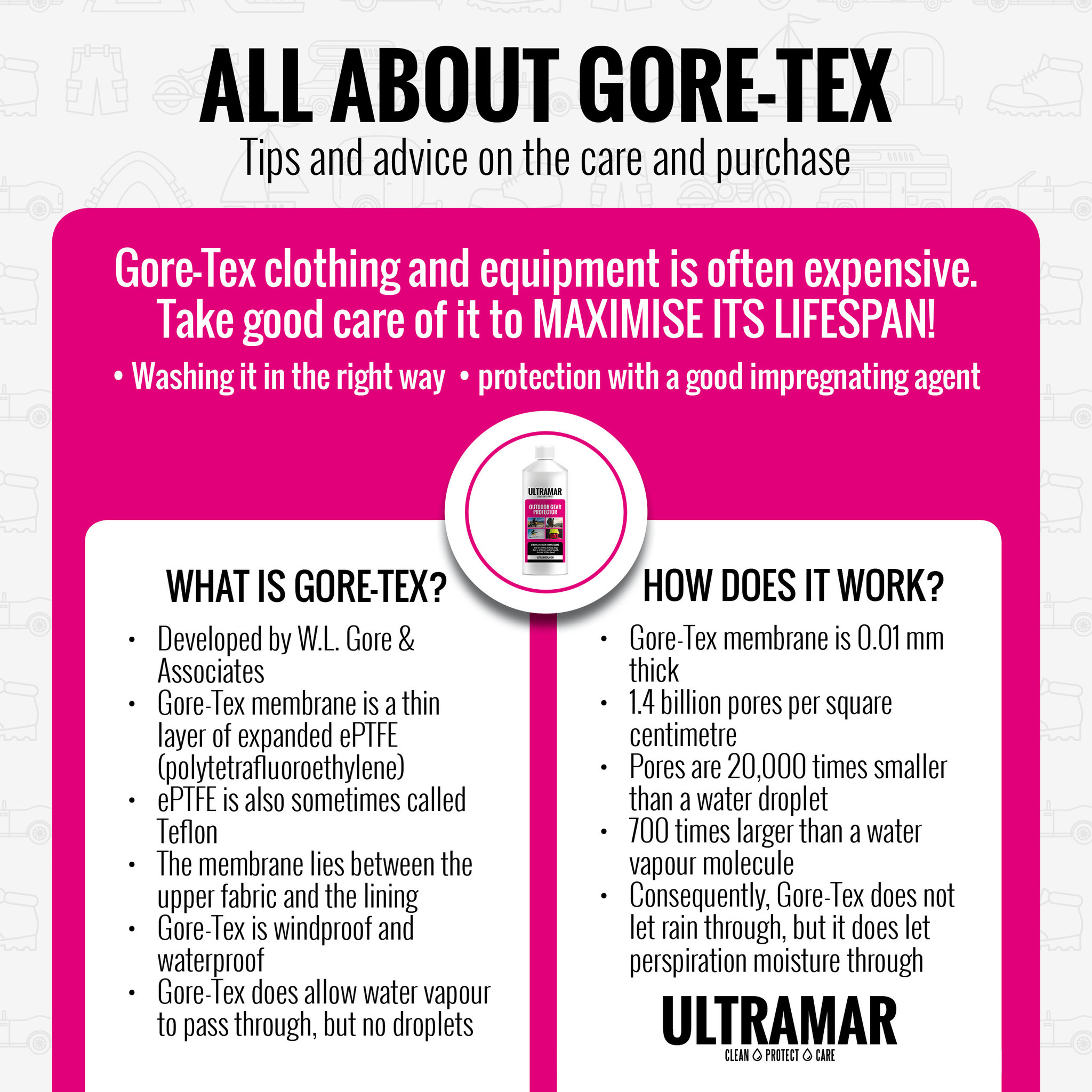 How long does Gore-Tex last?
In principle, as long as the material itself can last. We are generally talking here about clothing and equipment from more high-quality brands. So in theory, that's a very long time.
Good maintenance and careful cleaning will also help extend the life of Gore-Tex jackets, shoes, and other equipment. So we've put together some tips to help you guarantee they last as long as possible.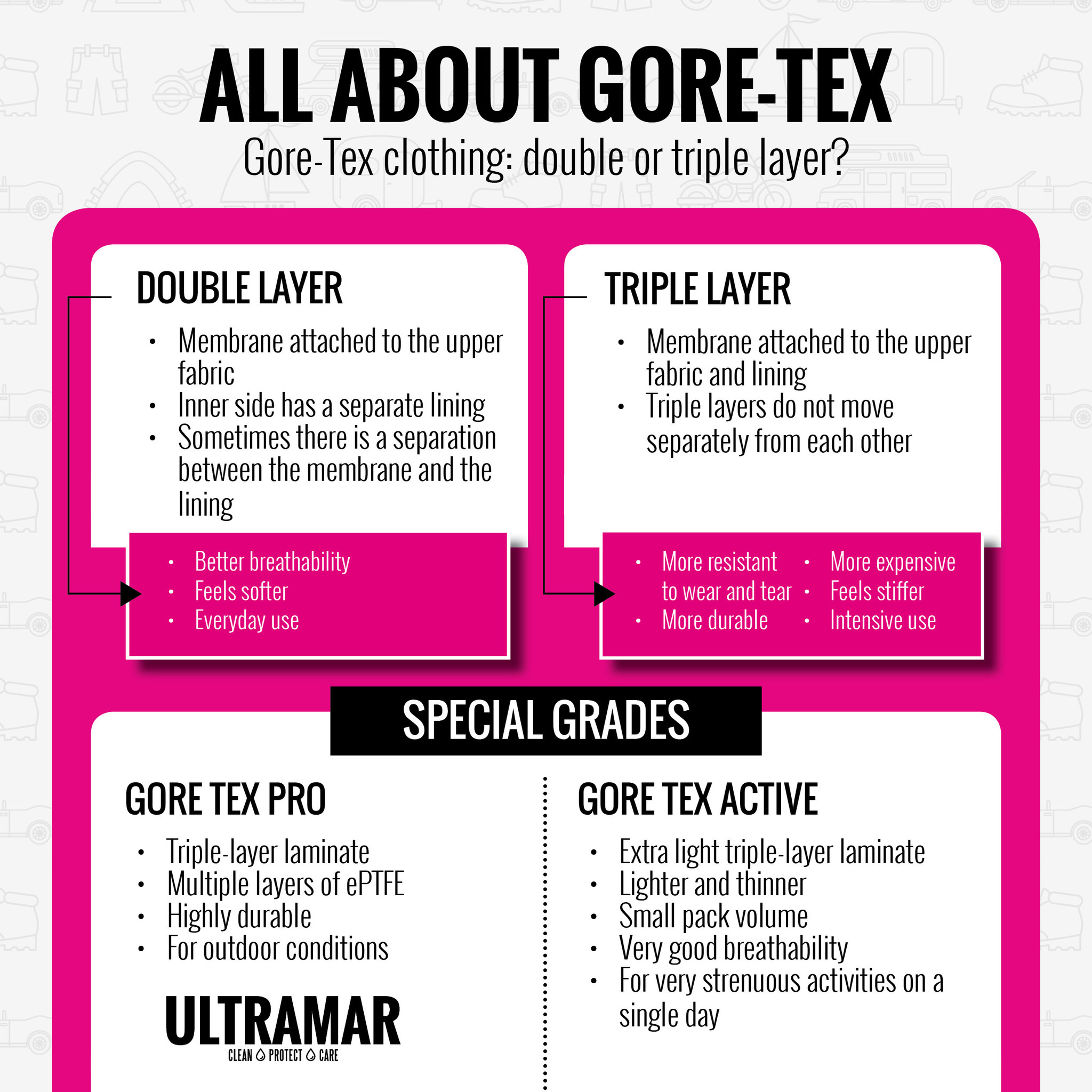 Impregnating Gore-Tex
Since waterproofing is essentially built into the material, Gore-Tex will always be waterproof. But impregnation is an important part of Gore-Tex maintenance.
Waterproofing Gore-Tex may not be necessary, but impregnation provides other benefits. Impregnation can also make Gore-Tex water repellent.
That means water and dirt are less likely to stick to the Gore-Tex membrane in jackets and other clothing. So impregnation really does help extend their life.
The chance of small holes forming also increases over time. But if you impregnate properly, you won't have that problem. Follow these steps to re-waterproof your Gore-Tex jacket.
Impregnate with Outdoor Gear Protector. This high-quality Gore-Tex impregnation spray is perfect for all types of equipment and clothing, including:
Gore-Tex raincoats;
Gore-Tex gloves;
Gore-Tex motorbike boots;
Gore-Tex trainers;
Gore-Tex cycling jackets.
Gore-Tex doesn't really need to be waterproofed, but impregnation keeps dirt from sticking to it, which prevents wear and tear.
In the long run, wear and tear will leave you with equipment that isn't completely waterproof anymore.
That's why we recommend Outdoor Gear Protector, which works well as a Gore-Tex spray. You can also use another product, but always check whether the impregnation spray is suitable for Gore-Tex.
Treating Gore-Tex with the wrong product can cause stains, discolouration, and can affect the jacket's breathability. It can make your clothing less comfortable, which would be a real shame.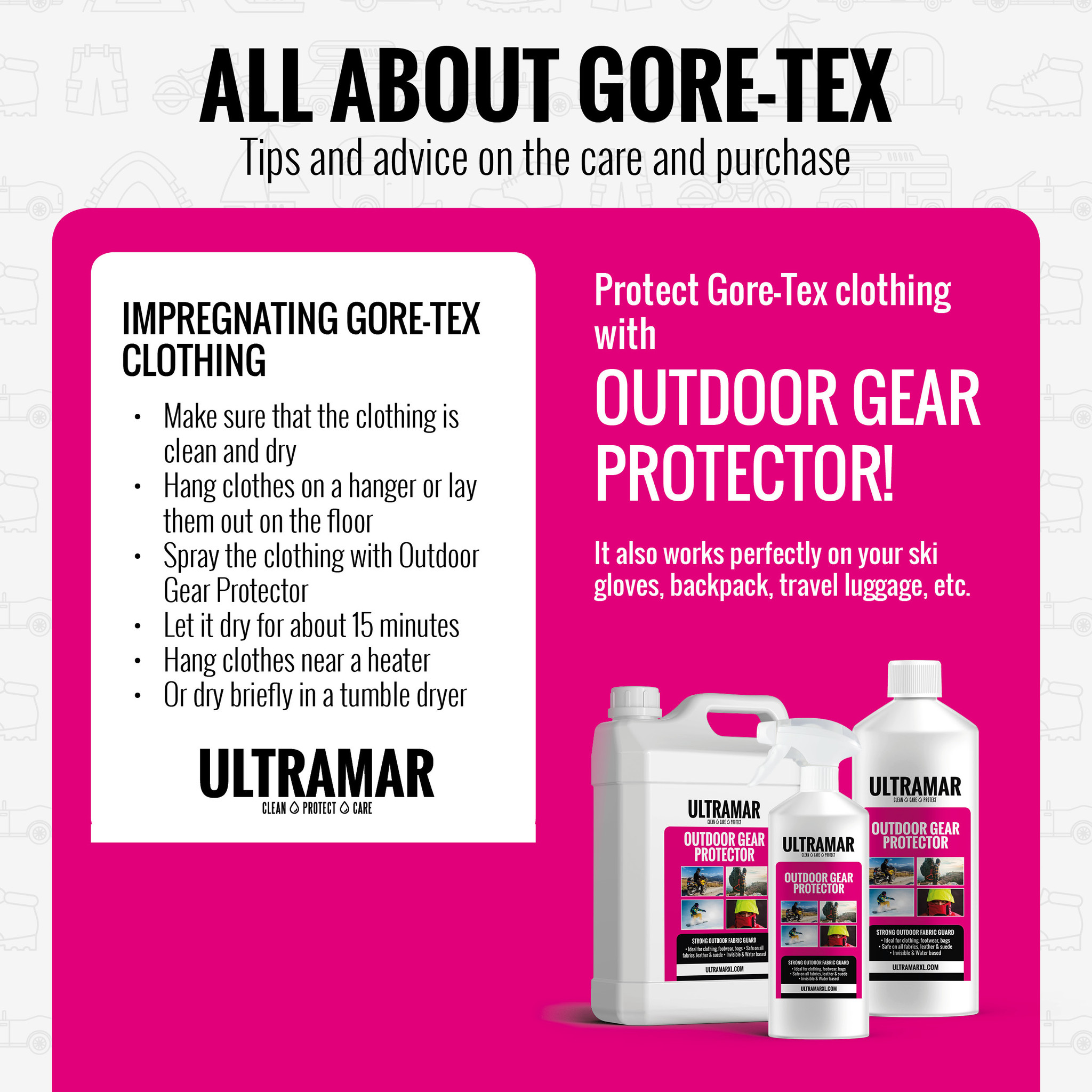 Repairing Gore-Tex
Gore-Tex is durable and strong, and is mainly used in materials and clothing made by higher-quality brands. So it doesn't damage easily. But accidents can always happen. It can get caught on something, for example.
Use special stickers to seal any holes and cracks. The adhesive in the stickers will keep the material completely waterproof.
How should you treat Gore-Tex shoes?
It will come as no surprise that Gore-Tex is frequently used in footwear, where moisture resistance and breathability are particularly important.
What should I do if it seems like my Gore-Tex shoes aren't waterproof? That's actually impossible. If they don't seem to be waterproof, then there is a hole or crack somewhere.
Gore-Tex shoes with a tear or hole can be fixed with tape or by having a professional repair them.
We recommend these steps for treatment and maintenance:
First scrub shoes when dry with a firm brush.
Remove the laces from the shoes.
Pull the tongue forward.
Treat the Gore-Tex shoes with impregnating spray, preferably Outdoor Gear Protector.
Dry the shoes slowly after impregnation and do not dry near a heat source.
Replace the soles before they wear out, which will keep them safe and comfortable.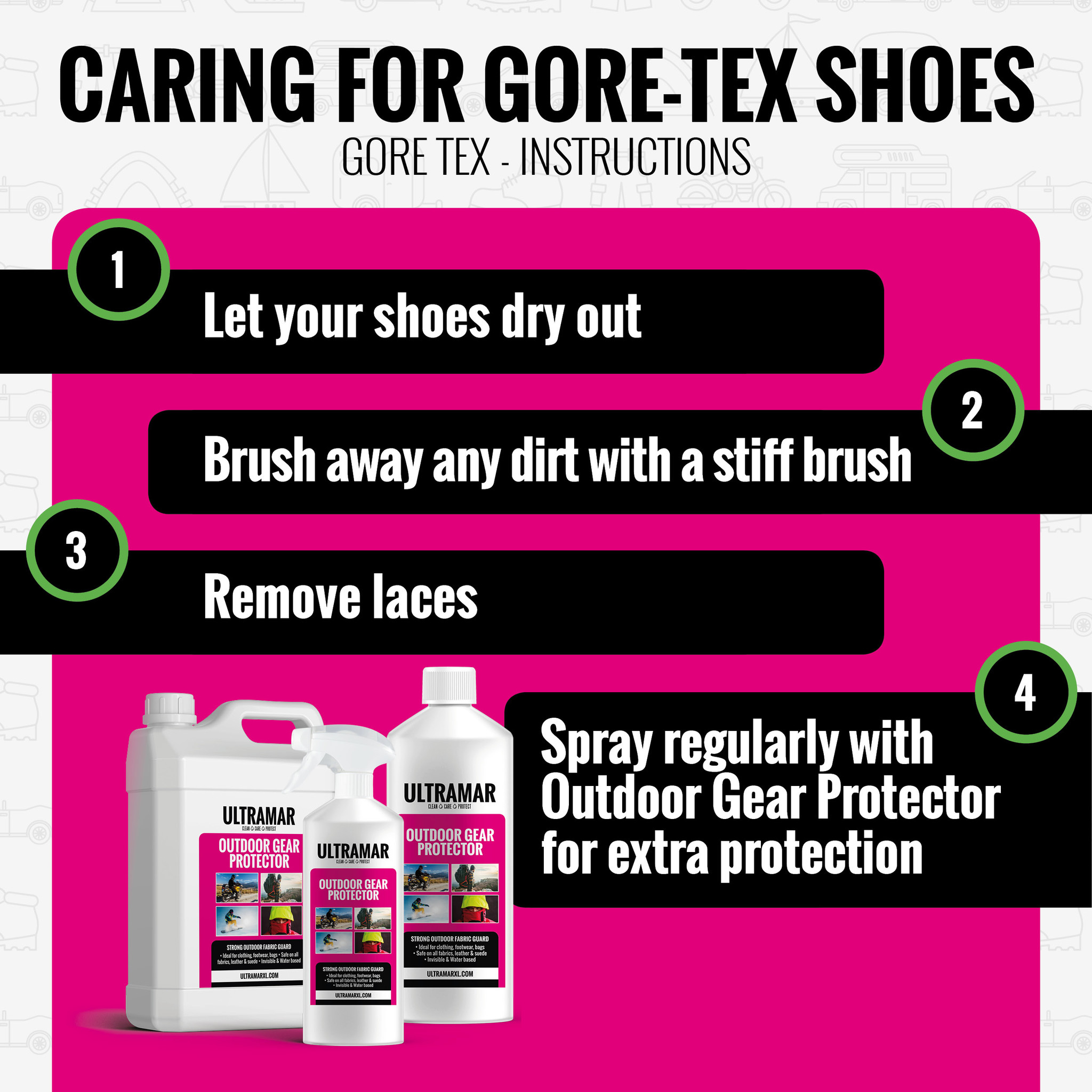 Which socks are best for Gore-Tex shoes?
It shouldn't really matter what kind of socks you wear with Gore-Tex shoes, because the material itself breathes so well. Of course, it doesn't help if the socks themselves aren't breathable. That's why you should wear socks that breathe well with Gore-Tex shoes. You should avoid cotton when you're active or exercising. Why? It absorbs a lot of moisture, which makes it less comfortable. Choose a synthetic material or, even better, merino wool.
Gore-Tex motorbike equipment
It makes sense that Gore-Tex is widely used in motorbike clothing. It can be combined with an insulating lining and a protective outer layer, something you often see in Gore-Tex motorbike gloves. It goes without saying that motorbike clothing should be kept in top condition. Always follow the instructions on the equipment. We've also put together a few tips for maintaining your motorbike gear:
Impregnate regularly with high-quality spray.
Remove lining and protectors and wash thermal lining separately.
Dry your motorbike jacket and boots at room temperature.
Wash Gore-Tex motorbike jackets by hand if possible, or at 40 degrees max.
Always impregnate the equipment after it has dried.
Cleaning Gore-Tex
Whether products with Gore-Tex technology are machine washable depends on the product itself. Most of the time they are, although they often come with special instructions. It's important to follow those instructions. That helps maintain the quality of the product.
Some jackets have a removable lining or thermal layer. It's best to remove the lining before washing the jacket.
You can also wash a Gore-Tex jacket with impregnation agent. This will help extend its life. However, you shouldn't wash this type of equipment too often. Washing Gore-Tex fabrics too frequently causes wear and reduces their lifespan.
Also choose your detergent carefully. There are detergents designed especially for Gore-Tex and outdoor equipment. It is always best to use them if possible. It's often a good idea to give your Gore-Tex products a few extra rinses. Be sure to follow the washing instructions on the product itself.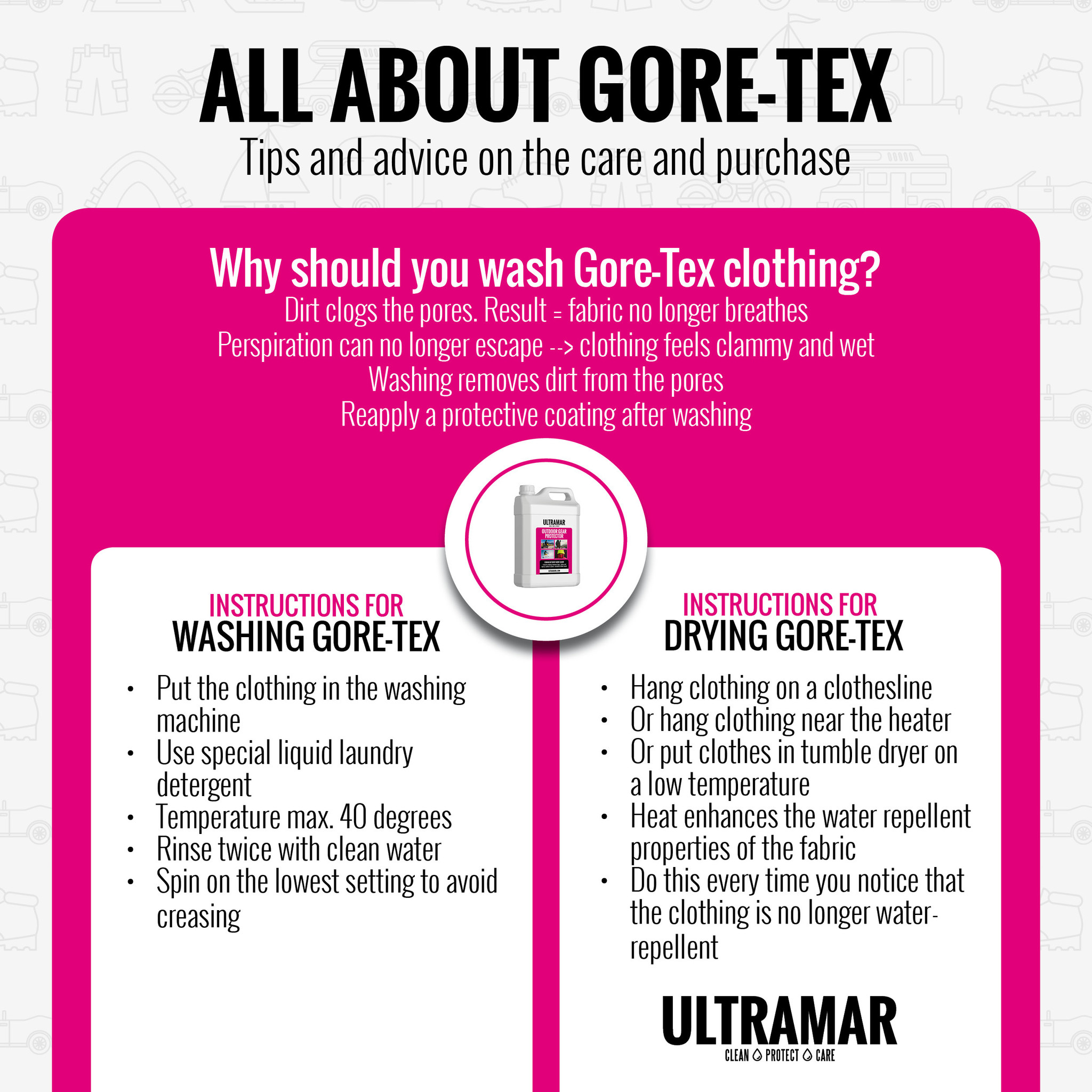 Tips
Waterproof and breathable. Gore-Tex is an amazing material that lasts a long time and will always be waterproof. It's a high-quality material that you'll usually find in the equipment and clothing from top-name brands, so you expect quality. You also expect the material to last. That won't be a problem, especially if you follow these tips:
There is no single magic solution for Gore-Tex. So it's important to always follow the care instructions on the garment or equipment.
Cleaning is very important, but do it carefully. Try to use the washing machine as little as possible.
Impregnating once is rarely enough. Repeat the process several times and allow the equipment or clothing to dry completely in between.
When it comes to impregnating, more often is better than more. So it's better to repeat the process than use too much spray.
Wear it with other top-quality equipment and clothing. A breathable outer layer is no use if the clothing underneath it doesn't breathe well.