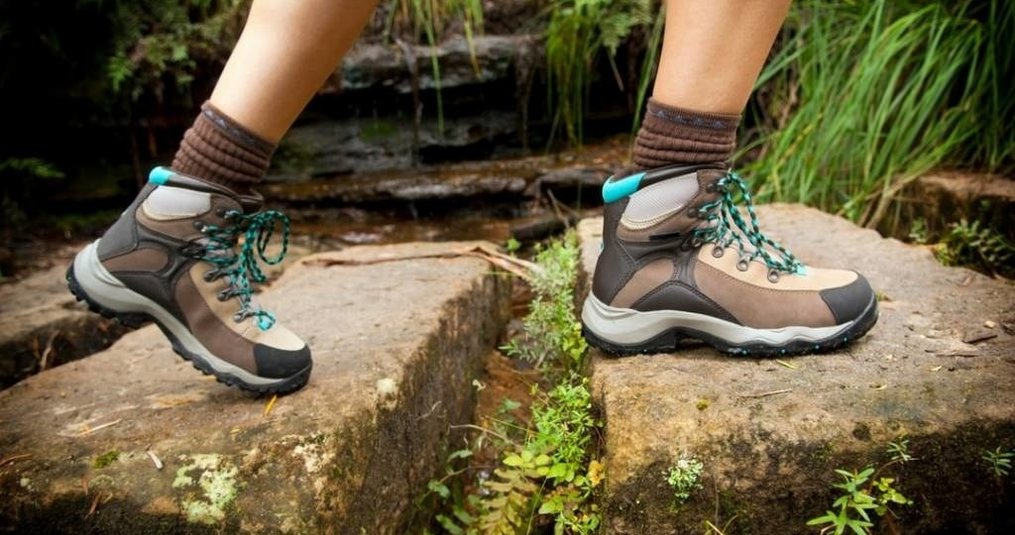 Have you ever walked with someone else's shoes on? Or did you once buy that pair of shoes that you liked so much, but that you had all your doubts about in the store?
Then you definitely noticed: the right shoes are extremely important!
When it comes to a night out, you'll be fine with ill-fitting shoes, but not with hiking boots. They should fit and completely match your feet. How do you choose the right shoe?
Types of hiking boots
It is very common to divide hiking boots into the following categories:
Light walking shoe
Beautiful mountain walks/trekking
Heavy trekking shoe
Crampon-proof alpine shoe
I walk through these shoes one by one and chances are that you immediately have an idea of which shoes are suitable for you.
Light walking shoe
Light walking shoes are also indicated with an A. These shoes have a flexible sole. They are actually suitable for all walks in the Netherlands. These light shoes are also perfectly suitable for walking on asphalt. The sole wears less quickly than the soles of other shoes.
Beautiful mountain walks/trekking
These shoes are slightly higher and offer better ankle support. Handy when hiking over mountainous terrain. Thanks to the sturdy material, you get more support for the feet. The shoes are, incidentally, just as flexible as the shoes from category A. These so-called B shoes are probably the most sold. These mountain hiking boots are often breathable and waterproof.
Heavy trekking shoe
These shoes are often referred to as category C. These are high walking shoes with a stiff and sturdy sole. The stiffer sole provides more grip. The somewhat stiffer leather and the sturdy stitching give extra support to the ankles. The shoes are ideal if you regularly walk over uneven terrain. These shoes are also perfect for you if you like multi-day hikes.
Crampon-proof alpine shoe
Category D means a heavy, high mountain shoe with a very sturdy sole. Thanks to the very stiff sole, they are very suitable for mounting crampons. The stiff and stiff leather also gives a lot of support while climbing. The shoes are not too comfortable, however. Often climbers take two pairs of shoes and don't put them on until the climbing gets really serious. The disadvantage is also that the soles wear very quickly on asphalt.
trail running shoe
To be completely complete, I also mention the trail running shoe. They are relatively new and mainly suitable for running up a mountain.
As you can see, it is especially important to determine where you mainly want to walk. This already gives a lot of clarity regarding the shoes to choose. Also think about the packaging beforehand. If you take a lot of luggage with you during the hikes, then sturdy shoes are definitely necessary.
Whether or not waterproof hiking boots
Especially if you walk a lot in the Netherlands or if you like the English and Scottish landscape, then waterproof shoes are recommended. These are often the so-called Gore-Tex shoes. You can easily recognize them by the label. These shoes have a breathable and waterproof membrane on the inside. Water cannot get in this way, but sweat can get out.
However, if you walk a lot in warm and dry areas, I do not immediately recommend these shoes. A shoe without Gore-Tex still breathes better. Does it not matter much to you and do you walk through various landscapes? Then see which shoe is most comfortable.
Take the time to try on walking shoes
If you really want to go years ahead with the new hiking boots, reserve enough time to try them on. Some tips here:
Only in the middle of the day
Your feet will thicken slightly during the day. If you try on new shoes at the beginning of the morning, there is a good chance that they will pinch halfway through a long walk.
Put on hiking socks
Preferably buy the hiking socks first and then try on shoes. You will immediately know whether the combination of socks and shoes feels good.
Not too narrow
The shoes may seem wider than your normal shoes, but that's okay. Shoes that are too narrow pinch and this is very annoying. For example, you feel this very well when you go down a mountain. With each step, your toe presses against the nose of the shoe.
Not too wide or too big
Would you rather have a size bigger? Don't do this for no reason either. If the shoes are too big and there is room for the feet to slide, you run the risk of blisters.
Walk a course in the store
Some shops offer the possibility to walk a trail. This is very nice, because you can feel the shoes on your feet in different situations. For example, you walk over stones for a while; how does that feel, is the profile thick enough? Or you descend a slope; do you not feel the toes pushing too much against the front of the shoes?
Is the heel well fixed in the shoe?
Often the shoes are one size larger. Do not automatically assume your standard shoe size when trying on. Often people need the walking shoes just a size bigger. You should still be able to put a finger behind the heel when trying on. Check this with the laces loose.
Cut your toenails before fitting
Ask for expert advice
Have your feet measured accurately. Both the length and the width.
Go to a good store
If you want to be sure that you get expert advice, don't just go into the first store. For example, choose an outdoor sports store with a large assortment. They often have well-trained and knowledgeable staff. Keep in mind that it is often crowded on weekends. If you are able to shop during the week, people will probably have more time for you.
The right hiking sock
I already mentioned that it is important to have the hiking socks on when trying on new shoes. You may be wondering how to find the right socks?
Hiking socks are made of moisture-regulating materials.
Hiking socks have as few seams as possible.
Hiking socks have a close fit.
Many hiking socks also have a slightly thicker sole, which provides more cushioning.
The top of the sock is usually slightly thinner for optimal moisture transport.
Do you prefer leather or plastic?
Whether you choose leather or plastic also depends on the type of shoes you want. Low walking shoes are usually made of plastic. Often very breathable. Well-ventilated shoes are important, because then you run less risk of blisters. Sturdy walking shoes often consist of a combination of leather and plastic. Leather is usually more expensive, but it certainly depends on the type of leather you choose. Full grain cowhide or Yak leather is very beautiful and has an excellent quality. Of course the price is accordingly.
Breaking in new walking shoes
Do you have the right shoes at home? Then build up slowly. Do not immediately opt for a multi-day walking tour. Your feet have to get used to the new walking shoes. Don't worry if the shoes don't fit well at first. They have yet to mold to your feet. This will take some time. Wear them inside a few times first. An additional advantage of this is that you can still return them if they really do not fit well or are not comfortable. When you are satisfied, gradually build up the walking.
When to buy new hiking boots
With proper and regular maintenance, walking shoes last a very long time. But life won't work. How do you notice that the walking shoes need to be replaced?
The lining at the nose and heel is getting worn.
The cushioning material that absorbs shocks during walking wears out.
Waterproof shoes are leaking.
Breathable and waterproof shoes no longer prevent the development of sweaty feet.
Cracks in the leather.
Hiking boots maintenance
Of course you want the shoes to last a long time. You can certainly take care of them once the shoes fit perfectly on your feet. How do you care for and maintain the shoes?
Let wet shoes dry well, for example put newspapers in them.
Do not let wet shoes dry before heating or in the sun.
Treat leather walking shoes with an appropriate care product.
After every walk, clean them, don't put them in the closet full of mud.
Impregnate regularly.
Advantages of impregnation
There are plenty of hikers who think cleaning the shoes is enough. Read below the main advantages of impregnation:
Makes the shoes dirt-resistant.
Makes the shoes water-resistant.
Your shoes will last longer.
A good product to impregnate your shoes with is Outdoor Gear Protector.
Order Outdoor Gear Protector before 10 p.m. Then you will have it at home tomorrow!