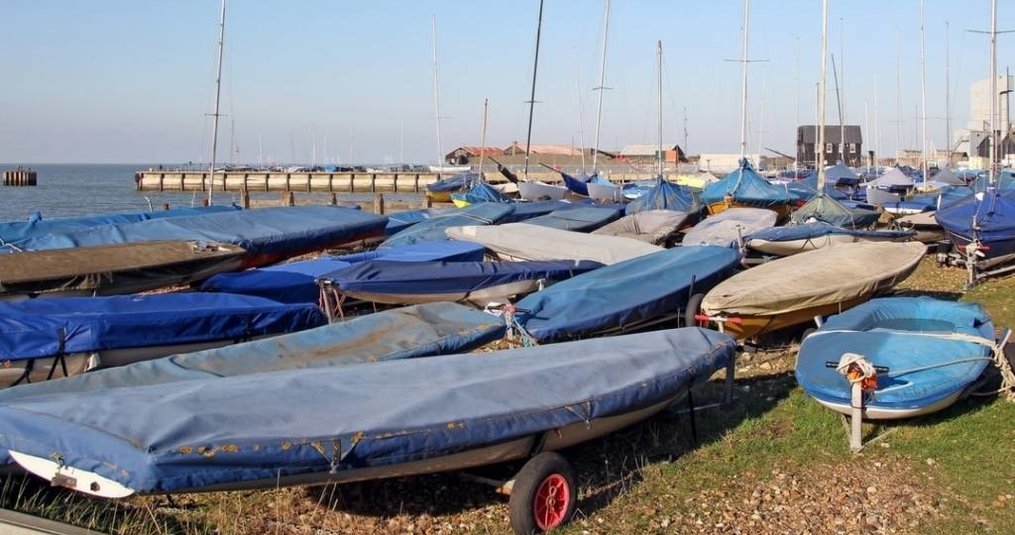 A boat cover has to put up with a lot during the season but, fortunately, cleaning it is a straightforward task.
Are you also in the mood for some wonderful sunshine, with a clear blue sky and a nice breeze? I'm sure it won't be long now! This means it's now time to start thinking about your boat, and I don't mean just thinking about having fun and relaxing. No, this time it's actually the maintenance of your boat that requires attention.
Could you still use some tips on cleaning and impregnating the tarpaulin? Then read on!
Boat covers have a lot to endure
If you stop and think about it for a moment, it makes sense that a boat cover requires maintenance, with the fabric having to endure quite a bit during the season. Dirty water and all kinds of weather conditions cause algae, mould and all kinds of stains but your boat cover will last for many years to come with a little maintenance!
Regular cleaning of boat cover
Regular cleaning and protection of your boat cover is important. Precisely by doing this on a regular basis, you can avoid many problems. However, this is where things often go wrong: people put off maintenance until the boat cover is already so dirty that a little water and a brush aren't enough to do the job anymore. Just clean and impregnate your boat cover in time each year and you'll be fine.
Step-by-step plan Cleaning and impregnating a boat cover:
Would you like to have a clean, waterproof boat cover with no more mould, green stains, or rain streaks? Interested in getting a step-by-step plan, tips, and advice sent straight to your inbox?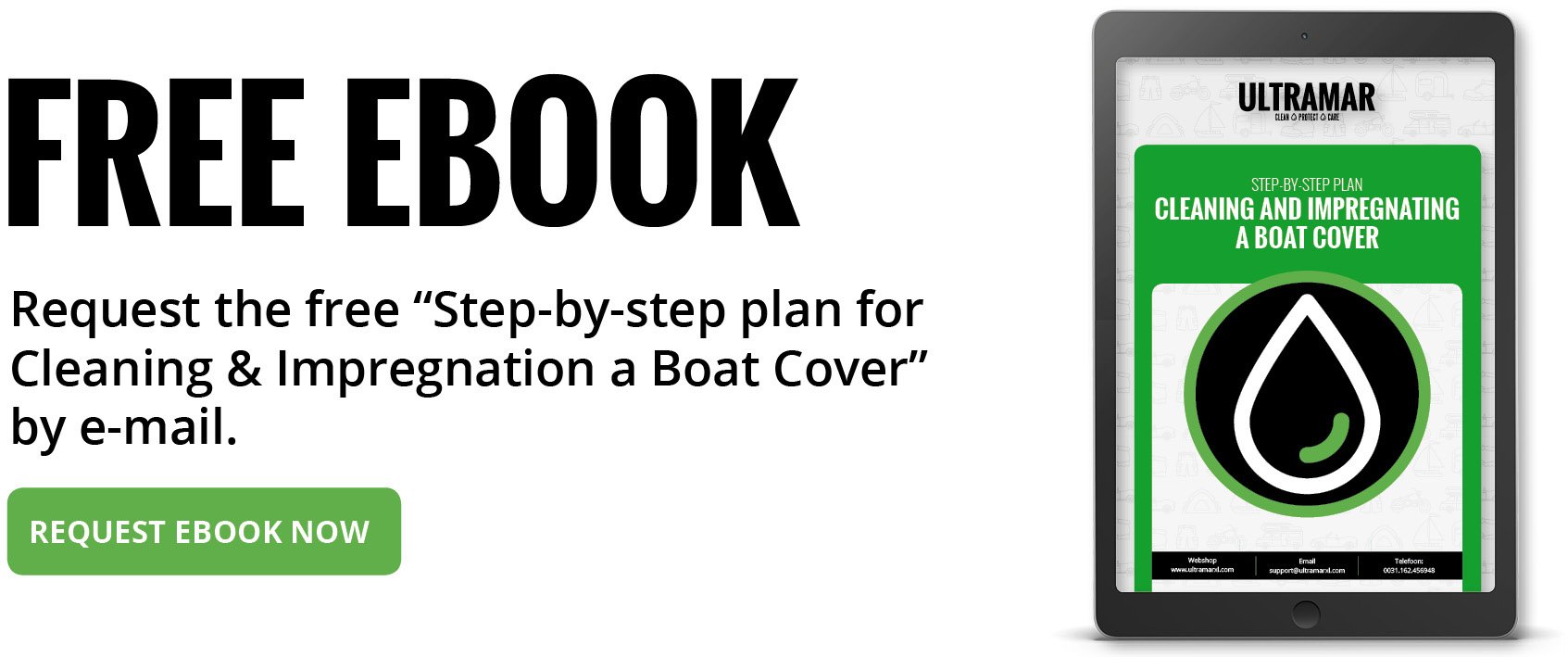 Clean it yourself or have it cleaned
Cleaning the boat cover yourself isn't difficult but you may nevertheless dread doing it, for example, because you have no time or space or just don't feel like it. Then have the cover professionally cleaned. After treatment, you can be sure that the fabric is clean and watertight. But don't stop there. Interim cleaning is and remains necessary. Preferably clean the cover immediately when you see stains, as the sooner you tackle this grime, the easier it is to get rid of.
Similar to dirty clothes
If you keep track of your own laundry, you will be familiar with this example: the longer a stain is in a pair of trousers, jumper or other garment, the more difficult it is to remove. This is the same with boat covers. Immediately tackle that grime. This is particularly important in the case of green build-up.
Immediate removal of green build-up
Can you see green build-up on your boat cover? If so, don't wait and take immediate action! Chances are this build-up will be quick and easy to remove, and rapid action will prevent worse problems. What's going on exactly? Green build-up retains moisture. This is an ideal breeding ground for mould, bacteria, grime, dead algae and yeasts, which all thrive in a wet environment. If you give mould and bacteria time, they will multiply, and it is precisely the combination of all this filth that causes problems. After all, removing it only becomes increasingly difficult. So you have green build-up? Clean it immediately with some water and a brush!
Most common dirt on boat covers
Wherever you sail, you will be familiar with this kind of dirt:
spider droppings
rain streaks
stains
bird droppings
But I have good news for you: I have a solution for all this dirt. At Ultramar, we have developed products that make cleaning your boat cover yourself straightforward. It is especially important that you use the handy step-by-step guide, as if you follow this, you are guaranteed to remove most stains.
Once again, grime attracts grime. This is also the case with boat covers. The fabric stays moist longer when it is dirty and moisture attracts mould. As a result, there will be more grime and I could go on and on. So don't wait too long. Spending a little time cleaning with lukewarm water each month will help you stay ahead of most grime.
More and more nuisance with mould
Dirty mould on a boat cover can be most annoying and an increasing number of water sports enthusiasts are encountering this issue. You can do a lot about it yourself, but an important part of the problem also lies with fabric nowadays.
Fabric manufacturers these days have to abide by stricter regulations, which makes it difficult to adequately protect the boat cover against mould. Mould used to have less of a chance in the past. There were such strong antifungal substances in and on the fabric that mould didn't even get a chance to grow. These chemicals, such as heavy metals, are now banned., however, which makes it difficult to combat mould.
What is also annoying is that every environment has its own type of mould. Good luck then finding a product that prevents all types of mould.
Mould in a new boat cover
Hard to believe, but it happens. Mould can be so annoying and troublesome these days. I regularly speak to people who, after just a few months, have mould in their boat cover. The boat cover was probably put in place while the boat was still dirty. The boat cover will then become infected, with even brand new boat covers quick to get infected with mould spores. That's why cleaning and protecting are the 2 magic words. Unfortunately, there are still no guarantees, but the chance of mould in your boat cover is, as a result, much smaller.
Mutating mould
Research shows that there are about 100 new species of mould every year. Old mould also evolves rapidly into new resistant varieties. That's why the best advice is and remains: clean the boat cover immediately when it is dirty. This is the only way to keep mould in check. For this, use clean water and a soft brush. Preferably do this every couple of weeks and make sure that impregnation is always optimal. That' s why you should impregnate the boat hood a few times a year.
Mould prevention in winter
Mould loves moisture, which it probably sees as an open invitation. But take this into account if you won't be on board for a lengthy period of time, e.g., during winter storage. If necessary, use a moisture eater. Good ventilation is also important, of course.
Don't forget about strongly fluctuating temperatures either, as these often result in condensation. You don't even realise it, not being there. Yet, all those weeks when you're not on board, there is condensation in the boat and all that moisture has to go somewhere. If mould spores are already present, things can quickly get out of hand.
How do I clean the boat cover?
So, maybe now you're thinking, where are those handy tips? What can be done about this? What is the best way to clean the boat's cover? And how do I prevent grime?
I always use a step-by-step guide. This works very well in practice. The various steps are logical and if you have cleaned a few times in this way, you will probably no longer need the step-by-step guide.
But here are the different actions:
Apply warm water to the boat cover. Preferably lukewarm.
Spray or squirt Ultramar Sprayhood & Tent Shampoo on the wet hood.
Brush off any grime well.
Let it soak for a while. 20 Minutes is usually sufficient.
Rinse with water so that grime and cleaning product are rinsed away.
Allow hood to dry.
Only when the boat cover is dry can you see whether the grime has really been removed properly, as this is not easy to see on wet fabric. Is it still dirty? Then use Ultramar Power Cleaner. This has been developed for really dirty boat covers.
Boat cover cleaning products
Don't go near home, garden or kitchen cleaning agents. Sometimes grime will disappear with these, but the chance of problems arising is high. Some products are practically impossible to rinse out, or ugly stains remain on the coating on the inside of the boat cover. Give your boat the best and only use good quality products.
Ultramar has specialised in the professional cleaning of boat covers since 1998. Thanks to my almost 20 years of experience, I know what every boat cover needs.
Boat cover impregnation
Impregnating your boat cover will help you in the fight against mould and other grime. Because you use the boat cover to cover the boat, it must, of course, be properly watertight. I know how annoying it is when everything is wet when you return to your boat after a while away from it. Impregnation is a good precaution.
How to impregnate a boat cover
Impregnating the cover is manageable. In any case, remove the cover from the boat; this works best. I am happy to help you with a step-by-step guide:
Lay the cover on a clean surface. Use a construction tarpaulin, for example.
First spray the top with an impregnating agent.
Allow to soak in. It soaks even better when you use a brush.
Turn the boat cover over and spray the other side as well.
The fabric must be completely saturated on both sides. Don't be too economical.
Preferably hang the fabric somewhere. Then it can dry well.
What if you notice after treatment that there is still a gap somewhere? If so, just respray the impregnating agent on that area.
Waterproof and additionally well protected
Use a good impregnating agent and your boat cover will be excellently protected. Use Ultramar Sprayhood & Tent Protector and the chance of mould and algae is significantly reduced. The benefits of this product include:
Suitable for any type of fabric.
Makes it perfectly waterproof.
Protects against dirt.
It is water-based and therefore contains no hazardous substances.
Works longer and more effectively than other impregnating agents.
Continues to work even if shampoo is accidentally left in the fabric after cleaning.
The best impregnating agent for your boat cover!
Impregnate on time
You certainly won't be the first to wait to impregnate until the fabric is leaking. After all, water sports enthusiasts love sailing. Isn't it wonderful to spend the warm days on the water? Nevertheless, you are certainly aware that good maintenance of a boat cover is a must. Really try to do this on time. Not only when the boat's cover is completely infected with mould. Be ahead of it! This is absolutely possible. Impregnate the fabric regularly and you'll get rid of algae and mould quickly.
Boat cover cleaning is a lot of fun
Clean your boat cover in time and enjoy a whole summer of sailing. A fresh look gives more fun. In addition, good maintenance guarantees a longer boat cover lifespan.
Impregnating agent for boat cover
Everything you need to clean and impregnate your boat cover is in one place. Take a look around on my website and the rest speaks for itself. Tips for waterproofing boat cover? You will find them here. Finally, be sure to make use of my free step-by-step guide for cleaning and impregnating the boat cover.
Have fun sailing!
Step-by-step plan Cleaning and impregnating a boat cover:
Would you like to have a clean, waterproof boat cover with no more mould, green stains, or rain streaks? Interested in getting a step-by-step plan, tips, and advice sent straight to your inbox?