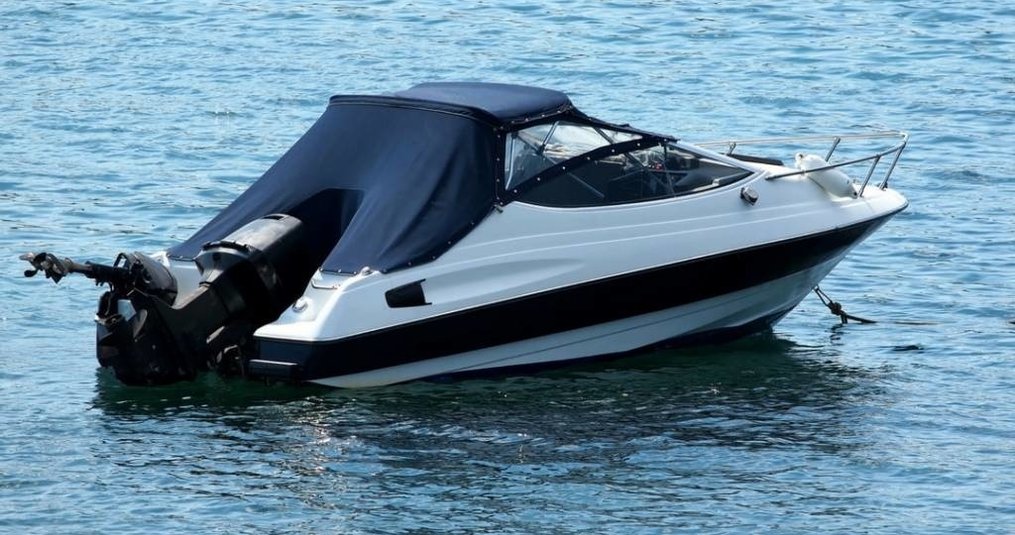 With this 3-step plan we clean more than 2000 boat covers every year. Request the step-by-step plan now for free!
As a boat owner you relish your time on the water. At the same time, your boat does need to be properly maintained. It goes without saying, maintenance must be done on the engine and the hull.
But the boat cover requires special maintenance as well. This ensures that it remains waterproof and also protects it from bright sunlight and UV rays.
In just three steps, you can make sure that your boat cover is kept as good as new. You can read all about that here.
Most boat covers are made of woven fabric. In the right quality, this is light, flexible and very durable. Unfortunately, boat covers are also susceptible to dirt and wear and tear. You can keep your boat cover in good condition by following these steps:
• Step 1: wash the boat cover with Sprayhood & Tent Shampoo
• Step 2: remove stubborn dirt with the Power Cleaner
• Step 3: impregnate the boat cover with Sprayhood & Tent Protector
What's great about this is that by using these cleaning agents, you can easily clean your boat cover yourself. The most important thing is that you should use these special products.
Cleaning a boat cover calls for patience and the right product. In any case, do not use green stain removers or vinegar. Vinegar is difficult to rinse out of the fabric and it also makes impregnation more difficult.
The stitching of the fabric does not tolerate vinegar very well either. Green stain removers also remain in the fabric for a long time and do more harm than good there.
Results
You get to enjoy a clean cover again as soon as your boat cover has been cleaned properly. Your boat looks much neater and newer.
Impregnate the fabric after you have finished cleaning it. Impregnating the cover also prevents new dirt from sticking to it, which means you will be able to enjoy your clean boat cover for a very long time.
Our three-step plan is as much about preventing dirt and a build-up of stains on your boat cover as it is about cleaning and impregnating your boat cover.
Cleaning the boat cover yourself
Thanks to the three-step plan, you not only clean the boat cover, but also effectively prevent new dirt and a build-up of stains. Dirt and stains on a boat cover are often really stubborn. This mainly concerns mildew and green stains.
Removing mould from boat covers
Mould causes brown or white stains on boat covers that do not look good. Mould on boat covers is also not good for your own health. In addition, mould gets worse over time and also affects the quality of the fabric itself.
Mould sticks particularly to damp and dirty spots on the fabric. By cleaning it properly and most importantly by impregnating it, mould does not stand a chance.
It is also important that you keep the fabric in a dry and well-ventilated place. Always wait until the cloth is completely dry before folding or rolling it up.
Remove and prevent green stains on your boat cover
Just like mould, green build-up causes ugly stains on your boat cover. This green build-up is made up of moss and algae and grows mainly in dark and humid places.
Once again, preventing these build-up of stains are the best remedy. You can also prevent green build-up by impregnating your cover.
Removing any green build-up on the boat cover calls for several rounds of cleaning and a specialised product.
Three-step boat cover cleaning
Below is a detailed description of our three-step plan for cleaning boat covers. These steps are effective because they ensure that you use the right product in the right order.
Clean the boat cover in several rounds first. You finish by impregnating it, which means that even new dirt will barely stick to the cover.
The steps and products below are suitable for almost every cover and every type of fabric. They have also been specifically developed for this purpose. Consequently, they work better than many generic products.
Not all cleaning and impregnating agents are readily suited to boat covers. Our maintenance products leave no stains behind and work longer than most alternatives.
Step 1: Apply Sprayhood & Tent Shampoo to clean the boat cover.
Clean the cover with a soft brush and lukewarm water.
Apply Sprayhood & Tent Shampoo to the damp cloth.
Brush once more, this time a little firmer.
Allow the shampoo to soak in for about 20 minutes.
Rinse the fabric with cold water and brush it gently at the same time
Leave the boat cover to dry thoroughly.
Repeat the above steps if any dirt can still be seen.
Step 2: Remove stubborn dirt and stains with the Power Cleaner.
Use a soft brush to rub it in after applying the Power Cleaner in the right dose. Use a plant sprayer for this if you wish.
Let the product work in for an hour. If any dirt or stains are still visible after an hour, repeat this step.
Rinse the boat cover with cold water.
Leave the boat cover to dry thoroughly.
Step 3: waterproofing the boat cover with Sprayhood & Tent Protector.
Apply this product generously on both sides of the boat cover, but not on any windows. Wipe this off windows immediately with a wet cloth.
Leave the boat cover to dry thoroughly.
Repeat the above steps one or two times.
Finally, clean the windows with Sprayhood & Tent Shampoo if necessary.
This three-step plan has been used successfully by thousands of boat owners since 1998.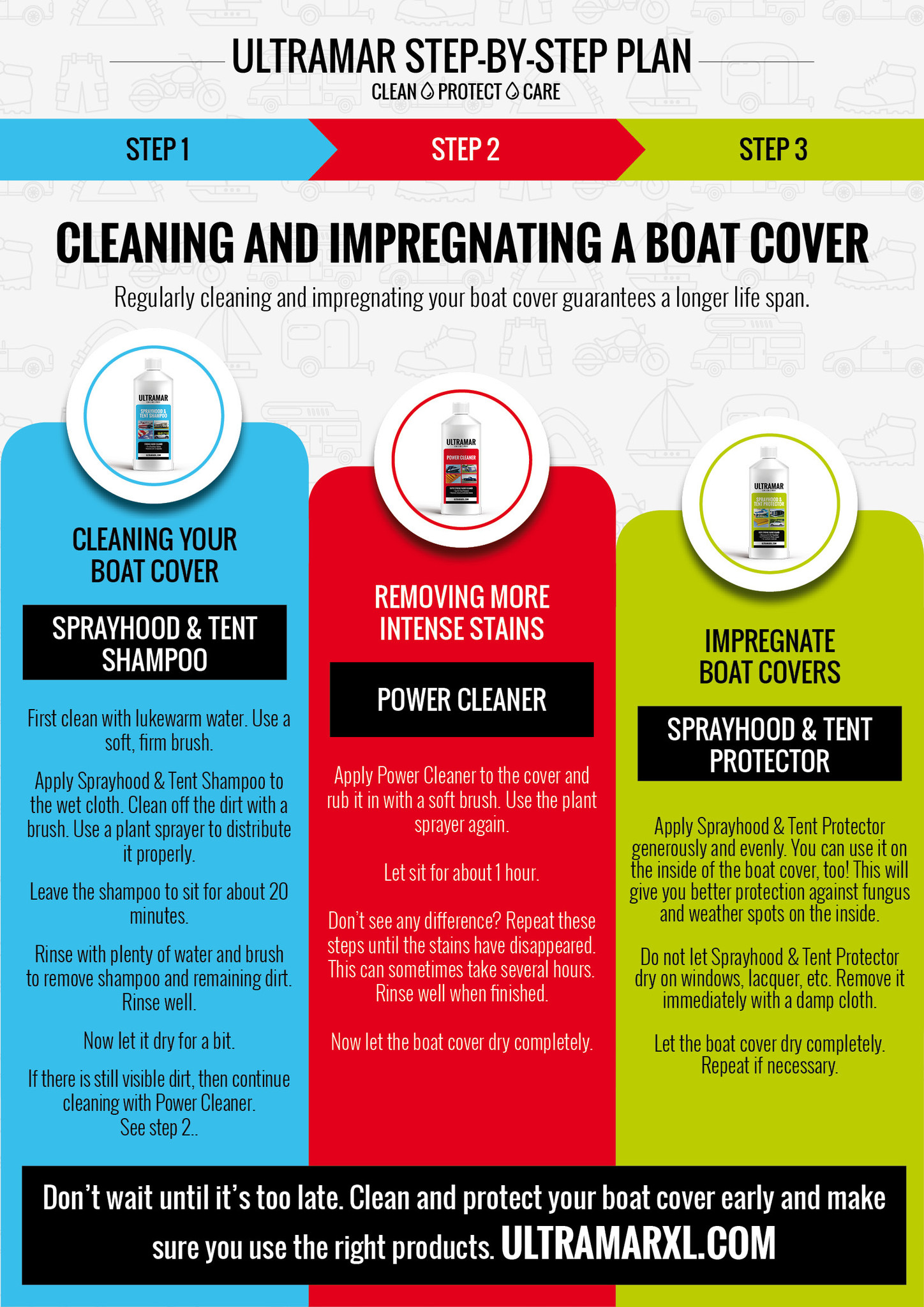 Tips for cleaning boat covers
Always try to clean a small piece of fabric first. (Slight) discolouration may occur in rare cases. You can immediately see if this is the case by testing it first.
Follow the three-step plan at the beginning and end of each sailing season. If you do this on a regular basis, you will notice that steps 1 and 2 will become less necessary over time and be less time-consuming.
When you moor or store your boat, try not to let one side get more sunlight than the other. This causes uneven discolouration and increases the chance of a build-up of stains on the side that's in the shade.
Would you like to have the three-step plan on hand when you carry out your maintenance? Then download the three-step plan below for free and receive it by email.
Step-by-step plan Cleaning and impregnating a boat cover
Would you like to have a clean, waterproof boat cover with no more mould, green stains, or rain streaks? Interested in getting a step-by-step plan, tips, and advice sent straight to your inbox?