The holidays are over and it's time to clean your tent. The windows need some extra attention.
The camping holiday is over. Now it's time to clean the tent. The windows need some extra attention. After all, you do want to have a clear view when you look outside. Use the tips below to find out exactly what you can and cannot do.
When cleaning plastic awning windows
When should you clean the windows of your tent? Many campers get their equipment out in early spring. How do you prepare for camping?
Clean the tent windows with lukewarm water
Do any repairs need to be made?
Treat tent poles with a protective coating to prevent them from rusting
Cleaning awning windows while camping
Clean the tent opening windows if these are very dirty
Before camping, use a good waterproofing spray to protect from dirt and stains
Stains? Use a little lukewarm water to remove them
Do not use soap-containing agents on a cotton tent. These affect the waterproofing quality
Cleaning windows after camping
Remove loose dirt and rubbish with a soft brush
Remove most dirt with lukewarm water and a clean cloth
Clean windows with Plastic Window Cleaner & Protector
Store everything in a cool, dark and dry place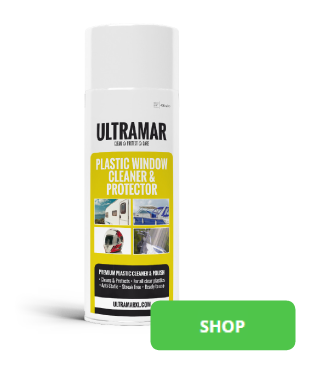 Cleaning awning windows
Don't just take any old cleaning product from your kitchen cupboard. Cleaning tent windows has to be done carefully. In most cases lukewarm water is enough. This will get rid of the usual dirt. After cleaning, dry the windows thoroughly with a dry and clean cloth.
Do not use soap products to clean tent windows
Maybe you already have your suds at the ready. Just to go ahead and cheerfully wipe down all your camping gear. However, do not use this to clean your tent windows. You could damage the waterproofing. I strongly advise you not to do this. Proper cleaning products will prolong the life of your tent.
Cleaning plastic windows
The reason why cleaning windows requires extra care is because of the type of material. Glass windows are easy to clean. However, the plastic windows of your tent have a UV-resistant layer. Without it, the plastic film would degrade over time. Cleaning agents damage this protective layer. You aren't able to wash off the dirt with just lukewarm water? Then use Plastic Window Cleaner. This is ideal for cleaning the windows of your awning.
Cleaning and protecting awning windows
Use this product to clean and protect your tent window in one go. Plastic Window Cleaner & Protector restores the clarity and shine of the plastic. And that in a matter of seconds. Even fingerprints disappear immediately. Do you have a lot of insects on your tent canvas and window? You can get rid of them in one single swoop with this cleaner. What else can you remove from your tent canvas and window?
Insects
Fingerprints
Drops of waterproofing fluid
Black mould
Lime
Salt
Oxidation
Advantages of Plastic Window Cleaner & Protector
As well as having a cleansing and protective action, this product also makes minor scratches less visible. Is it rainy outside? Visibility is instantly much better after a treatment with Plastic Window Cleaner & Protector. It contains no silicone; no abrasives and it isn't not sticky. What's more, it has a wide range of uses. So, it's not just for cleaning tent windows. What else can you clean with it?
Transparent plastic, among other things:
Aeroplanes
Boats
Engines
Caravans
Convertibles
Displays
Headlights
Diving goggles
Helmet visors
Boat canopies
In short, it's an ideal product to have in your home. It provides protection against water, stains and dirt. How do you actually use Plastic Window Cleaner & Protector?
Spray Plastic Window Cleaner & Protector on the windows or the other surface
Spread it out using a clean microfibre cloth
Spreading it out evenly is important
Rub away any dirt
Work from left to right and top to bottom
Rub dry with a clean microfibre cloth
Repeat this treatment if necessary
Cleaning boat canopy windows
Do you have any stains or just everyday dirt on your boat canopy? Most of it can be removed with lukewarm water. In any case, never use green soap. This is very greasy and sticks to the canvas. This makes it much easier for moulds to stick. If the mould is recent, you can probably remove it with a dry brush. The mould will still be on the surface of the canvas and not absorbed into it. Make sure that the deck is clean beforehand. It happens quite often: people have completely cleaned their boat canopy and then someone smacks one of the cushions. A fountain of spores on your boat. You could clean the canopy again. This is unnecessary. In case of persistent dirt, Plastic Window Cleaner & Protector is the ideal solution.
Cleaning sprayhood windows
Are you going to clean your sprayhood windows? Of course, you can have them professionally cleaned as well. But that comes at a price. When you have a good product in house, you can do it yourself. Sprayhood windows put up with a great deal of wear and tear during the boating season. Just think of fungi, algae, weather marks and rain streaks. These are all caused by water and the weather. Make sure you regularly clean everything. This will extend the service life considerably. On top of that, you will then be sailing with an attractive boat. After all, appearances do matter!
Quickly remove any marks
Regular cleaning is important. However, any marks should be removed as soon as possible. Preferably as soon as you discover them. You should not have any marks on your boat canopy. Imagine a beautiful dress or a pair of expensive trousers. If you leave a stain, it becomes more and more difficult to remove. This also applies to marks on your boat canopy. Moreover, green stains retain moisture. This creates a perfect environment for mould, dirt, dead algae and yeasts. Over time, removing marks becomes more and more complicated. So, clean them quickly. Then it will still be quite easy to do. When it comes to stains that are difficult to remove, Plastic Window Cleaner & Protector offers a perfect solution.
Cleaning caravan windows
Cleaning windows has to be done carefully. Lots of unsightly scratches? A few greasy fingers on the windows? What is the best thing to do?
Soak them beforehand to make sure they are free of grease
Never use anything containing acetone because it will dissolve the plastic
Remove scratches with a specialised product
Use lukewarm water and a completely clean cloth
Clean with Plastic Window Cleaner & Protector and remove any minor scratches