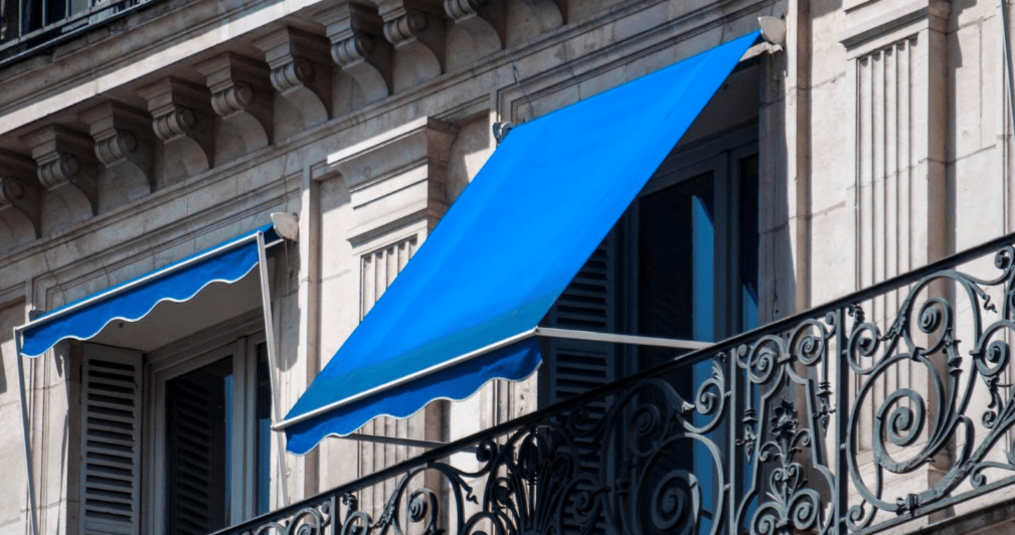 You will prolong your sunshade's lifespan by cleaning it regularly. In this article, I will tell you all about cleaning awnings.
Cleaning an awning thoroughly is really one of those chores you tend to put off. Yet a clean sunshade is a pleasure to look at. Make the most of these useful tips and advice. Step by step you can read all about cleaning your sunshade fabric. By regularly cleaning the fabric, you will prolong its lifespan. Moreover, you will get to enjoy a beautiful awning. Let the summer come back again.
Cleaning sunshades
It is high time that we cleaned the sunshades. Is that also the case for you? Then you are definitely not the only one. Cleaning sunshades thoroughly and regularly is not really a hobby for most people. How do you go about it? Use a handy step-by-step plan. Then you'll know exactly what you need. What's more, you can read step by step what you need to do. Cleaning your sunshade will be an easy job from now on. Read the handy tips.
Cleaning tips for sunshades
Below you can read a number of indispensable tips for cleaning sunshades. An important question: when do you clean sunshades?
When to clean a sunshade
Actually, sunshades can more or less be cleaned at anytime. Nevertheless, spring is the best time. Winter really does have an impact on the fabric. Consider rain and wind. Before that, there was the summer too. Even then, a lot of grime will still end up on your sunshade. That's why spring is ideal if you want to clean the fabric. Which day should you choose?
A cloudy day
No rain
In the morning or in the afternoon
Not in bright sunlight.
Type of fabric
Can the fabric be detached? Then that is a great advantage for you. Then you won't have to struggle with it. Maybe the fabric probably can't be removed? Even then, the step-by-step plan is still ideal. You should always fully unfold the screen.
Professional sunshade cleaner
What are you going to clean your sunshade with? That is not an unimportant question. When you bought your screen, you forked out a lot of money. Don't ruin the fabric by using aggressive cleaning agents. No matter how stubborn the stains are, do not use those products. Choose a professional sunscreen cleaner. But what about stubborn stains like green mould? Will they disappear with that? Isn't soda better?
Green mould on sunshades
Are you looking for information on cleaning sunshades which have green mould? You're fed up with those green stains? They look so ugly, don't they? Would you like the best solution? Then impregnate the fabric. You can prevent new stains this way. Do you still see green mould turning up again? After an impregnation treatment, lukewarm water should be enough to remove it again. You won't even need to use a sunshade cleaner. Some tips when it comes to green mould:
Effective protection prevents dirt from sticking
Dirt instantly holds more moisture
Dark spots are ideal breeding ground for green mould
Green mould holds more moisture
One thing leads to another, so early intervention is necessary.
Impregnation provides excellent protection against green mould
Mildew on sunscreens
Mildew is really quite ugly on your sunshades. If you visit someone, you will often immediately notice any mildew. That's why you should get rid of this completely. Prevention is and remains the best cure. This can be done by properly impregnating the fabric. Never, ever, roll up the canvas when it is wet. That's asking for mildew to turn up. After an impregnation treatment, the risk of mildew is zero. Is it still causing you problems again? You can easily remove it with lukewarm water and a brush or cloth.
How to clean awning fabric
When cleaning an awning, a number of steps always have to be considered. Once again, we recommend that you ask for the handy and complete step-by-step plan. This is free of charge. And you will receive it if you send an email. How do you clean your awning fabric?
1. Roll out the fabric
Try not to miss a single spot. It is important that get every nook and cranny. Clean the top and bottom sides.
2. Cleaning the fabric
There are probably rods, frames or racks as well. Clean these with a little lukewarm water. If necessary, add a bit of cleaning product to it. Take a soft brush or cloth. You can remove most stains this way. In the first instance, you can try only using water on the fabric. You should be able to get rid of most of the dirt if the fabric has been impregnated.
3. Drying
It is important to let the cloth completely dry out first. Only roll up the fabric or sunshade again after that.
Waterproofing sunshades
Do you really want to make your sunshade waterproof? Then you will need to impregnate it. This offers you plenty of advantages.
Waterproof awnings last much longer
Dirt, mould and mildew don't stick to the fabric as easily.
If you do not impregnate it, mildew will eventually damage the sunshade's fabric.
Cleaning and impregnating sunshades
How do you impregnate sunshades?
Always clean the screen first
Let it dry thoroughly
Apply the impregnating product evenly
Also treat the inside of the fabric
Let it dry thoroughly
Repeat the treatment if needed
Step-by-step instructions for cleaning the fabric of sunshades
Are you interested in the handy step-by-step plan? This will help you to clean the awning really well. From now on, you won't have to worry about it anymore. You grab the free step-by-step plan and the rest speaks for itself.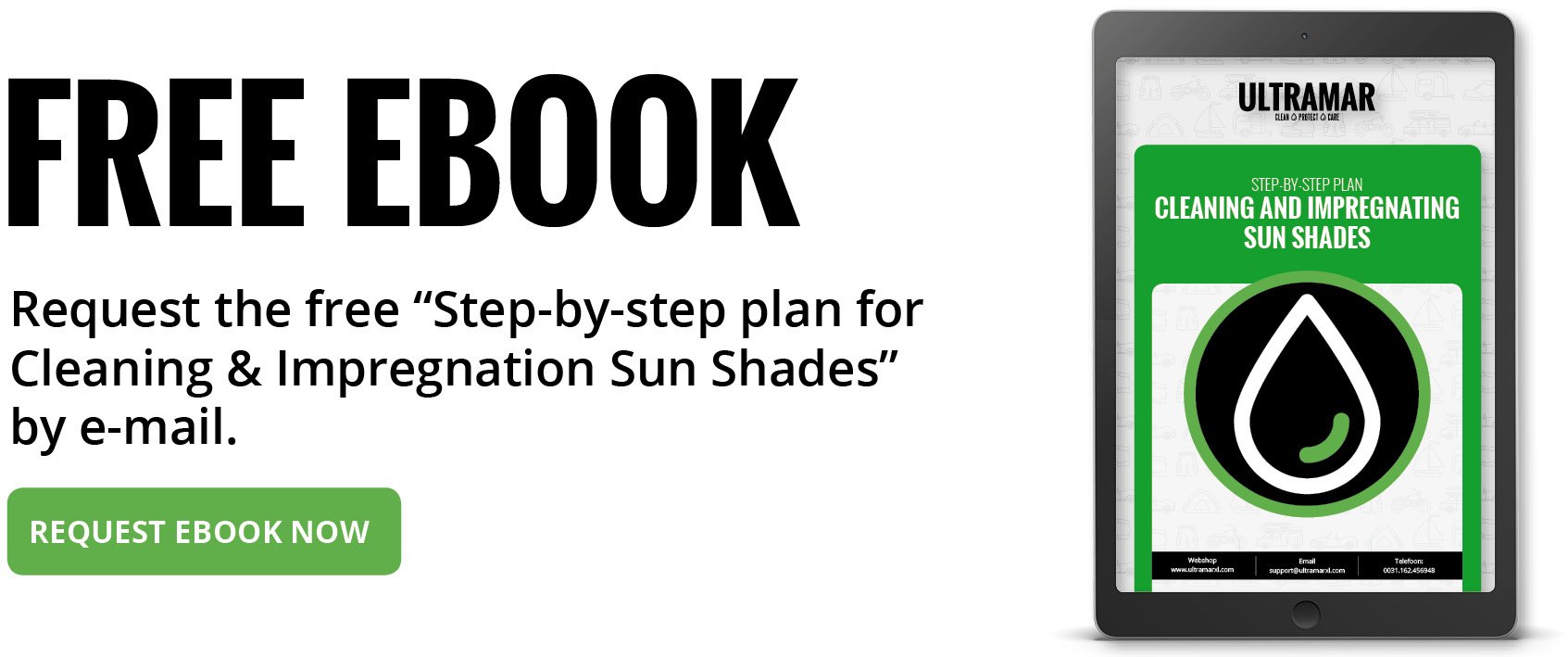 Cleaning sunshades with soda
Does your neighbour always clean everything with soda? That might not be a problem at all in the bathroom. But please do not use soda on your sunshade fabrics. It may seem like such a useful product, however, I strongly advise against it. Green soap and soda will actually leave a greasy layer on your fabric. This is no problem whatsoever for mildew and algae. They stick to that exceptionally well. Of course, that's not what you want.
Never clean sunshades with green soap
There are always plenty of people who clean their sunshades with green soap. That's such a waste. Of your time and also of your fabric. You will in fact have to clean it all over again very soon. Algae and mildew stick to the greasy layer left behind by this soap. Green soap is a fine product, but it is not suitable for cleaning sunshades.
Maintaining sunshades
Is there an urgent need for some maintenance? What is visible on the screen? A screen that has not been maintained for a long time often ends up with:
dust and sand sticking to the fabric a bit or a lot after a long period of neglect
Greasy build-up from soot and exhaust fumes
Algae, moss and drip marks
Bird droppings
Mildew
Do you think that it can't be fixed anymore? Use our handy step-by-step plan. Even stubborn stains can be removed.
Impregnating product for sunshades
If your fabric is completely clean, use a professional impregnating product. Then your awning will last you for years to come. Is there any dirt? Use only a little water and you will remove the dirt in no time.
Have your sunshade cleaned professionally
You don't think you will ever be able to get the fabric clean again? Of course, you can take it away and have it professionally cleaned. The screen will then receive a thorough treatment.
The costs of having a sunshade cleaned professionally
If you want to know what the costs are, please request a quote. At any rate, it is bound to cost you less than when you have to order a new awning.