Annoying stains on your sail? Will it stay wet for a long time? Then use Ultramar's 3-step plan. We use this to clean and coat more than 2000 sails every year! No matter how dirty your sail is, our cleaning products are guaranteed to work. Request the step-by-step plan for free and enjoy your clean sail. Of course, the fabric also lasts for years longer if you maintain it properly.
Why you can protect better than always cleaning your sail
A sail with poor protection will get dirty easily. Stains from mosquitoes, mold and green deposits then simply adhere to the tarpaulin. It then takes a lot of effort to clean the sail again.
Read on to learn how to protect your sails. To protect the sail with a good coating, the cloth must be clean.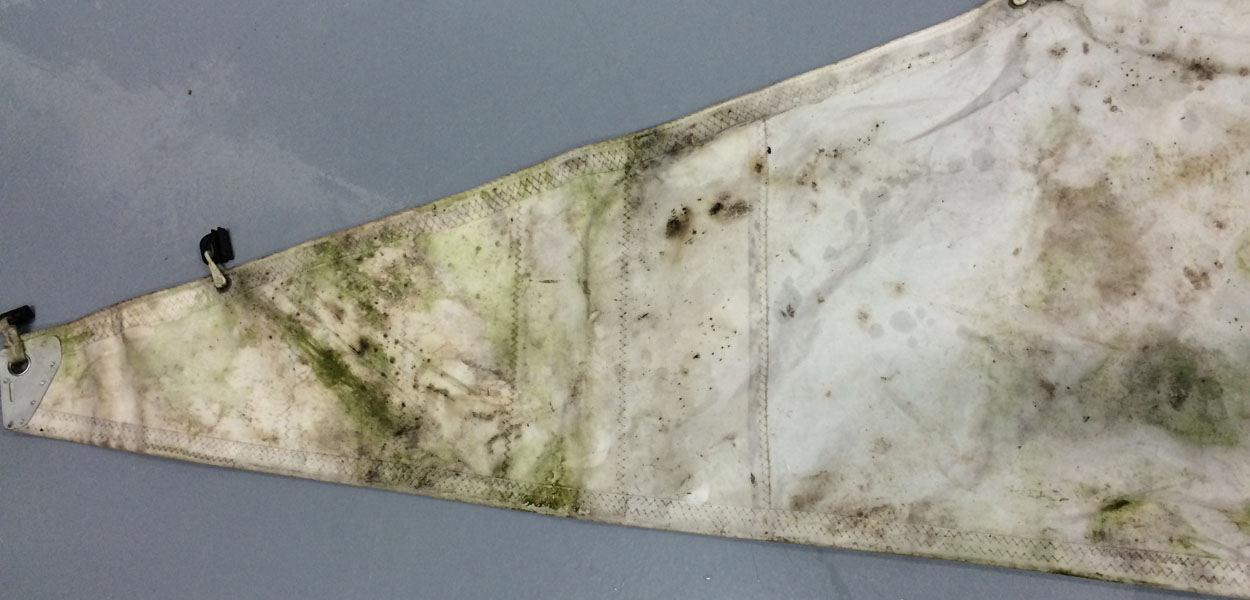 Sail with poor protection
Step 1: Clean sail with Sprayhood & Tent Shampoo
First clean with lukewarm water. Use the Ultramar canvas brush.
Apply Sprayhood & Tent Shampoo to the wet tarpaulin.
Brush off the dirt well. Use a plant sprayer to distribute it evenly.
Let the shampoo act for about 20 minutes.
Remove shampoo and dirt with a brush and plenty of water by rinsing and brushing. Rinse well.
Now let the sail dry a bit.
Is there still pollution to be seen? Then continue cleaning with Power Cleaner. See step 2.
Step 2: Remove heavy pollution with Power Cleaner
After you have done step 1, you may still see some stains. Then continue with this step.
Apply Power Cleaner to tarpaulin and rub in with the Ultramar tent cloth brush. Use a spray or plant spray.
Leave to act for about 1 hour. Don't see any change? Spray extra Power Cleaner, brush and let it work again. Repeat these steps until the stains are gone. This can sometimes take several hours. Then rinse well.
Now let the sail dry thoroughly.
Step 3: Coat the sail with Outdoor & Gear Protector
This is actually more important than cleaning. If you protect the tarpaulin in time, it can simply get dirty less quickly. Fungi, algae, dirty water will really have much less chance to attach to the cloth.
Make sure the cloth is clean and dry before the treatment.
Apply Ultramar Outdoor & Gear Protector evenly to the fabric. From left to right and from top to bottom. A thin layer is sufficient.
Apply with the Premium Ultramar Spray and distribute / brush in with the Ultramar Tent Cloth Brush.
Treat the other side immediately.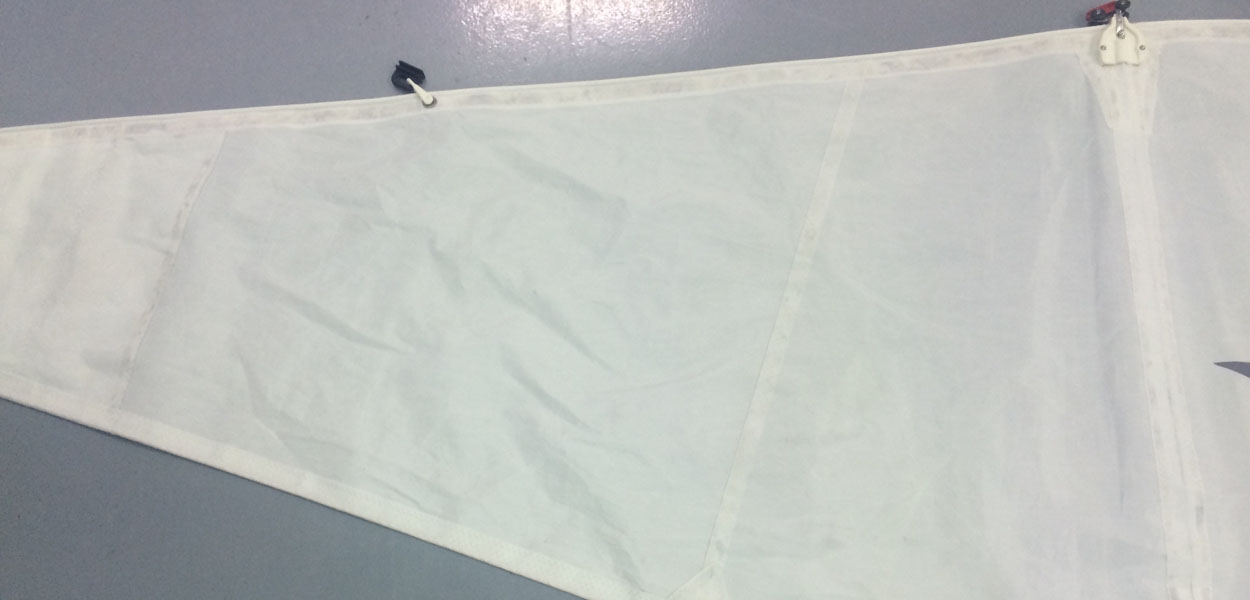 Cleaning & coating sails: types of pollution
Do you have a Contender, Challenge, Dimension-Polyant or Bainbridge sail? These manufacturers produce excellent quality tarpaulin. Yet all these types of cloth are and remain vulnerable. They are all susceptible to green deposits, polluted water and mould, among other things.
mold
If you leave the mold in place for too long, your sail will soon need to be replaced. The dirtier the sail, the more dirt it attracts. Also, with a bad coating, you will suffer much more from moisture in your sail. Ideal for fungi. Over time, the fungi get between the layers of the cloth. This irrevocably means the end of your sail. This can cause major problems, especially with laminate sails. Protecting in time is the solution! Use the 3-step plan for this. Do you want to prevent mold from getting into your sail as much as possible? Then apply an extra protective layer to the cloth. Moisture then adheres less easily to the sail. If the cloth stays dry for longer, you will have much less problems with mold and deposits. So treat the sail regularly with a good impregnating agent or coating
Rust
Unfortunately this happens regularly. These are annoying stains, but they can certainly be removed. With Rust Remover from Ultramar you can easily remove the rust stains from your sail. Follow the instructions on the package. We have developed this product especially for removing rust stains from tarpaulin. This often requires a special approach. Most standard rust removers do not work well enough on tarpaulin.
aluminum
Aluminum stains on your sail? Then also use Ultramar's Rust Remover. The stains will definitely disappear!
Cleaning sails: general tips
A clean and fresh sail increases the sailing pleasure. How do you take care of this yourself?
Regular cleaning with water prevents many problems
Actually, this is a very simple solution, but perhaps the very best. Do you have new sails or have you just cleaned the canvas, keep it clean now! How? Wash regularly with lukewarm water and a soft brush. This way there is no attack on the sail.
Do not use a pressure washer
If you combine Ultramar's products with the 3-step plan, you do not need a high-pressure cleaner. If you do use a high-pressure cleaner, you run the risk of permanently damaging the cloth.
Do not put the tarp in the washing machine
It seems so easy, but the canvas can shrink, the stitching sometimes comes loose and often the sail is much too big for the drum. The cloth is therefore not really clean.
Do not use green soap
You probably also have green soap in your kitchen cupboard. If not, then this is definitely recommended. You can clean everything in a convenient, cheap and environmentally friendly way. However, not your sail! The vegetable oils leave a greasy layer on the cloth. Ideal for algae and mosses. But not good for your tarpaulin.
Salt attracts dirt
As annoying as this is, it is true. If you have sailed on salt water, your sail will get dirty faster. What can be done about this? After sailing, simply rinse with clean water. Most of the salt is then immediately gone.
Sailing to the sail laundry
Even if you can wash your sails yourself, you can always use the sail laundry.
Coating sail
Wind and rain? Salt or fresh water? Lots of sand on the sail? A good coating can have all of this. Treat your sail regularly (every 2 years) and you don't have to be afraid of anything.
Sail stays wet for too long
Do you notice that it takes a long time for your sail to dry? Does the dirt also adhere more easily to the cloth? There is a good chance that the protective layer is worn out. Time to protect. A new coating is the solution.
After coating, the sail is extra sturdy again
Do you notice that the canvas feels a bit limp? The coating that holds the tissues together is probably worn out. A good coating provides protection, but it also gives the fabric extra stability. Important when sailing! Folds, saltwater, sand and UV radiation damage the coating and make the fabric feel increasingly weak. Recoating is often the solution!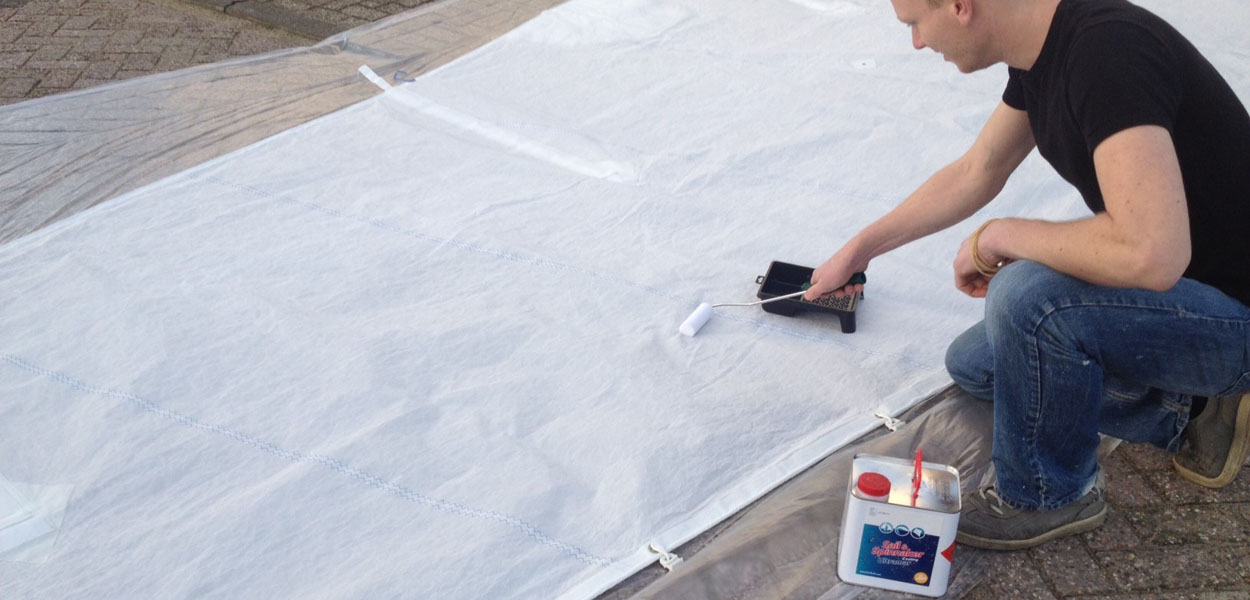 Coating sail

Also give a new sail extra coating
I understand that you are hesitant at first. Surely a new cloth can do without extra protection? Read my reasons for choosing an extra coating:
The coating applied during manufacture often does not provide adequate protection. This coating really leaves a lot to be desired , especially when it comes to repelling fungi . You may wonder why a better coating is not applied? This is mainly due to stricter requirements in the fabrication of the cloth. Good for the environment, but not for your cloth. An extra coating is a simple solution. This way you keep the new sail really like new for a long time to come.
The sails are taped and stitched. As a result of stitching, there are all kinds of tiny holes in the cloth. Algae and fungi can therefore easily affect the tape used. If you have a laminate tarpaulin, the fungus can even penetrate far between the layers of the tarpaulin. An extra protective coating is a good solution.
The coating that was originally on the canvas, has less effect over time. The sail is then quickly susceptible to the adhesion of fungi, algae and dirt.
Sail cover instead of cleaning and coating?
Just as easy, you might think? A cover or a sail cover over it and there is nothing to worry about. Unfortunately this is not true. I've seen quite a few sails that were completely affected by fungi and algae. The owner thought he had protected the sail well by means of a hood or cover. Why does this not work in practice?
Often the cover itself is not even waterproof anymore.
Dirty water can always run between the sail.
So make sure you have extra coating.
Use Ultramar professional cleaning agents
Thousands of water sports enthusiasts have already preceded you. More than tens of thousands of sails have been treated this way. We have been using the products in our professional sail laundry since 1998. We have specially developed them, with these 20 years of practical knowledge. What do you pay attention to?
Always read the instruction manual carefully before use. You will find this on the packaging.
Just to be sure, try a small piece of the cloth first. Very occasionally discoloration of the sail occurs. I have to say that it always concerns cheaper types of cloth from abroad.
Suitable for cleaning and coating almost all sails.
Never mix Power Cleaner with ammonia. This gives off a poisonous gas.
Do not inhale the spray mist.
Only clean spinnaker with Ultramar Sprayhood & Tent Shampoo.
Wear a mask when coating
A mask is recommended when using Ultramar Sail & Spinnaker Coating
This mask does not cost much and you can use it several times. Advantages of this mask:
You can adjust the carrying strap yourself.
Mask is 100% PVC-free.
Equipped with a filtering layer of activated carbon.
Perfect closure and fit.
Excellent wearing comfort.
Increases security.
The exhalation valve prevents condensation.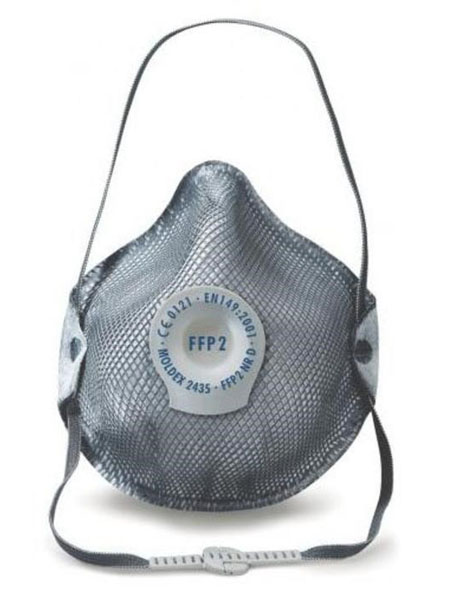 Recommended mask