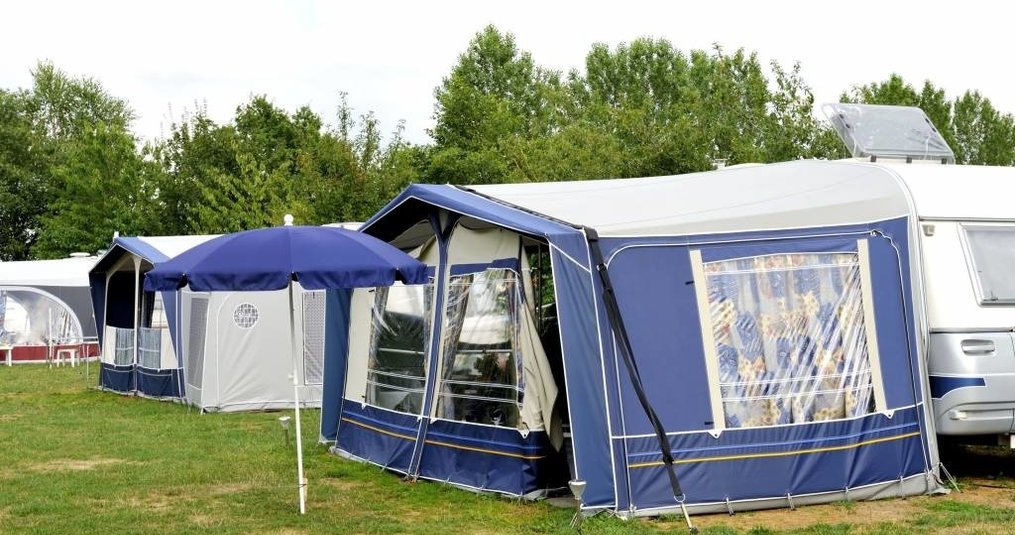 Camping is a real pleasure, but only with material that is in top condition. It doesn't always have to be brand new. Proper maintenance of your (awning) tent will keep your tent in good condition and you will enjoy it for a long time to come. You can easily maintain your tent awning yourself. We explain below how you can best do this. Below, you will find our step-by-step plan for cleaning and impregnating your tent awning.

You can download the complete step-by-step plan for free on this page
Step-by-step plan cleaning and impregnating a tent awning
Our proven cleaning method is very simple. You only need three cleaning products, which take all the work out of your hands. Follow the steps below and even the dirtiest tent canvas will look brand new again.
Step 1: clean the tent awning with Sprayhood & Tent Shampoo
First clean with lukewarm water Use a soft brush to do this.
Apply the Sprayhood & Tent Shampoo onto the tent canvas.
Brush the canvas quite firmly. Use a plant sprayer to apply the product evenly.
Allow it to dry for about 20 minutes after application
Remove the shampoo and dirt with a brush and some water. Rinse well so there is no traces of shampoo left behind.
Allow the canvas to dry.
Repeat the above process if there is still (a lot of) dirt remaining after drying.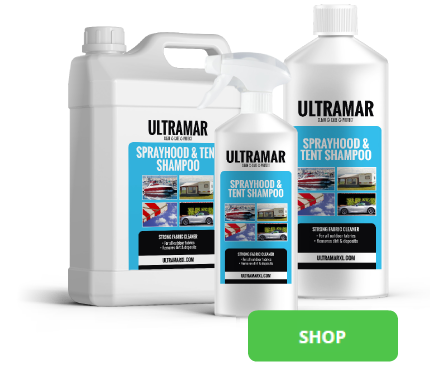 Step 2: remove stubborn dirt with the Power Cleaner
Apply the Power Cleaner to the tent awning, rub it in with a soft brush. Use a plant sprayer again to do this.
Leave to soak in for about one hour. Don't notice any changes yet? Then repeat the process as many times as necessary and let the product work its way in.
Rinse the tent thoroughly with cold or lukewarm water.
Let the tent dry out until it is completely dry.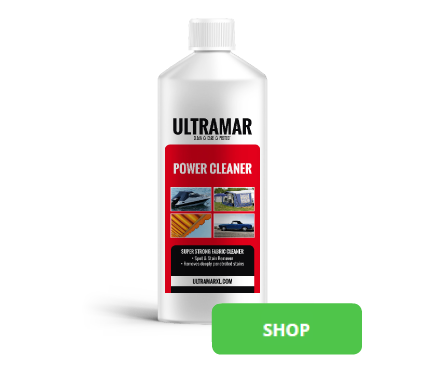 Step 3: impregnate the tent awning with Sprayhood & Tent Protector
Apply Sprayhood & Tent Protector generously and evenly. Be sure to clean underneath the tent ceiling as well. This prevents mould and condensation from forming on the inside.
Do not apply Sprayhood & Tent Protector to windows or varnish. Remove the product from these areas straightaway with a damp cloth.
Allow the canvas to dry thoroughly and after drying repeat the treatment if need be.
Are there still some drops of impregnating product left on the windows? Wipe this off with a little benzene.
Use Ultramar Sprayhood & Tent Shampoo to clean the windows.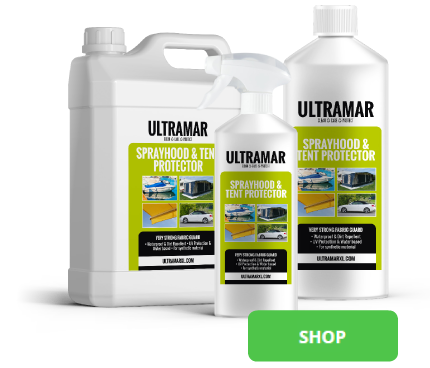 Why should you clean the tent awning?
Even if you only go camping once in a while, you will notice that your tent awning gets dirty very quickly. A couple of weeks camping is enough for stains to appear. You often don't notice them until the next season. That is why it is also important to take preventive measures after each use or at the end of the season. Both cotton and synthetic textiles are susceptible to mould, green stains and also bird droppings. Not a pretty sight, but also bad for the condition of your awning. Always clean these at the end of each season and let them dry thoroughly. Not only does this look much nicer, but it is also important for the upkeep of the canvas. With the right precautionary measures and proper maintenance, tent canvas can remain in good condition for up to several decades.
Prevent mould and condensation
The main threat to the upkeep of your awning is mould. Mould degrades the quality of the fabric over time, so prevention is the panacea here. Awnings are sensitive to mould because they inevitably become damp. From rain and dew on the outside and condensation on the inside. Moisture scarcely sticks to well-impregnated textiles. Nonetheless, you cannot prevent this from happening altogether. This is why you should always make sure that there is enough ventilation. While camping as well.
Tips to prevent condensation
Do not dry clothing inside the tent (awning) and preferably leave these to dry outdoors.
Use a tarpaulin under the groundsheet so that it won't get so dirty. Please note! Make sure this tarpaulin is at least as big as the groundsheet, so that no water can run under the tent.
Do not cook under the tent awning or only do this with the sides open. Cooking creates condensation. Odours can also be absorbed into the canvas.
Close the tent as best you can during the day and let it ventilate in the evening.
Tent leaks
There are roughly two types of tent canvas leaks: leaks caused by tears and leaks due to insufficient impregnation. The first type requires repairs, but is also relatively rare. Usually moisture leaks through tent canvas that is intact. This is because a lot of tent canvas is not 100% waterproof, but highly water-resistant instead. This can disperse a certain amount of water per surface area. This degrades over time, which means that (re-)impregnation is necessary. No matter which type of impregnation is used, tent canvas is most waterproof when it is under an even level of tensile stress. So make sure the awning is secured properly and nice and taut and make sure that items in the tent awning are always kept clear of the side walls.
Tent canvas impregnation
You can keep your tent canvas water-repellent for a very long time by impregnating it. By impregnation, we mean a special treatment that forms an invisible water-repellent layer around the fabric. From a technical point of view, this is not making a tent watertight, but if it is done properly, it comes down to the same thing. Sprayhood & Tent Protector is an excellent product for this. You can recognise a properly impregnated canvas by the way water drips off it. This happens in whole drops, which are scarcely absorbed by the underlying canvas.
It is important that you apply the impregnation product evenly and allow the canvas to dry thoroughly after application. The easiest way is to set up the tent awning. That is the best way to dry the fabric. Depending on how often you impregnate, it is still advisable to impregnate several times. Always allow the tent awning to dry in between applications and make sure that the impregnation product does not form droplets on the fabric.
Tent awning cleaning products
It is important that you clean your tent with a specialised product. For example, the products that we recommend in our step-by-step plan. A lot of cleaning products in your kitchen cabinet are unsuitable for using on textiles. Sometimes this is because they are too aggressive and can damage the tent canvas. But also because some detergents, such as green soap, contain oils that make the canvas actually attract more dirt. Textiles require a gentle hand and specialised products.
Simple Step-by-step plan