SAIL CLEANING & COATING
'Really great! The sail is 20 years old, and I can't remember it having been so clean.' - (REVIEW) Michel
'Really great! The sail is 20 years old, and I can't remember it having been so clean.' - (REVIEW) Michel
Does this sound familiar?
... spots from mosquitoes in the headsail
... lots of ingrained stains
... rust spots in the sailcloth
... sailcloth stays wet longer than before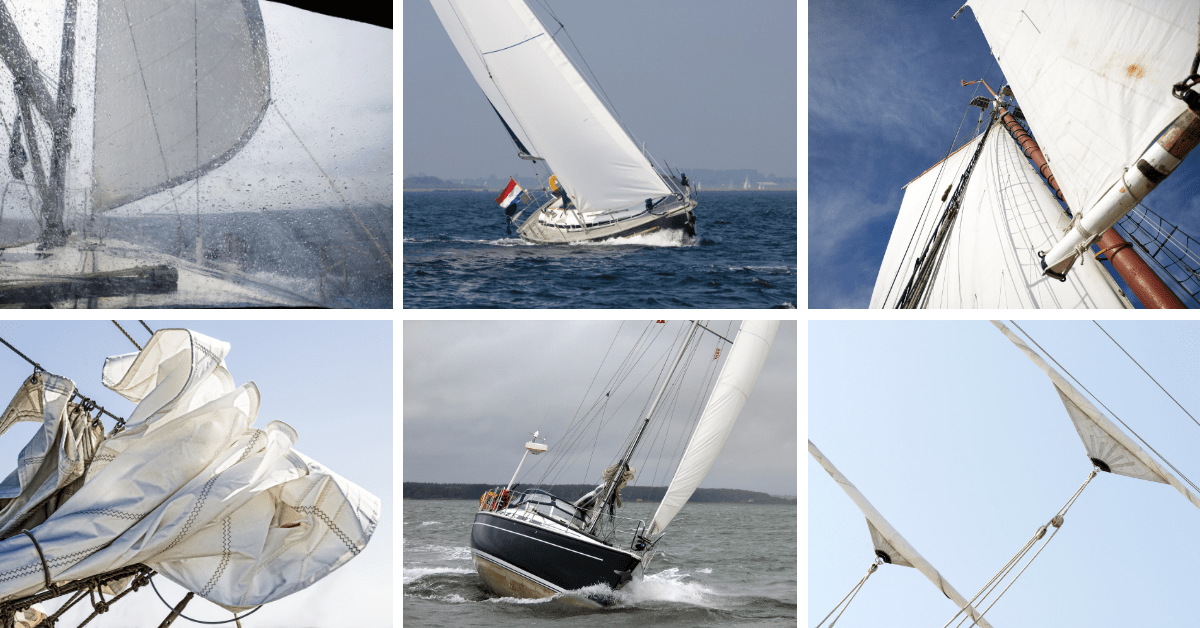 No problem!
Make your sails beautifully clean again and give them strong protection in 3 simple steps!
In steps 1 and 2, you remove the nasty mould, green deposits, rust, adhesive and stains from mosquitoes and spiders.
In step 3, you give the sailcloth perfect extra protection against dirt, mold and algae.

How does it really work?
This is the basis.

STEP 1
First, clean the sailcloth with SAIL CLEANER to remove all the dirt.
Fill a basin, tub, bath or rain barrel with lukewarm water (30 degrees Celsius).
Add 30 grams (1 scoop) per 1 litre of lukewarm water and mix.
Fold or roll the sail.
Allow the sail to be submerged for at least 24 hours.
Remove the dirt that has soaked loose and the sail cleaner with a soft brush and plenty of water.
If necessary, soak for several days and repeat the treatment. You can use the bath multiple times. Just throw a bucket of warm water in the bath. Roll the sail up again and let it soak again overnight.
Note: Ultramar Sail Cleaner is not suitable for spinnaker cloth. It is possible that coloured sails, UV strips or telltales will not be colour-fast. First try this on a small piece of cloth.
STEP 2
Remove all stains and heavy dirt with POWER CLEANER.

Spray Power Cleaner on sailcloth. Use a spray or plant sprayer. Then rub in with a soft brush.
Leave on for approximately 1 hour. Do you not see any change? Spray extra Power Cleaner, brush and leave it to work again. Repeat these steps until the spots are gone. This can sometimes take a few hours. Rinse well afterwards.
Let the sail dry well.

Remove rust stains with RUST REMOVER.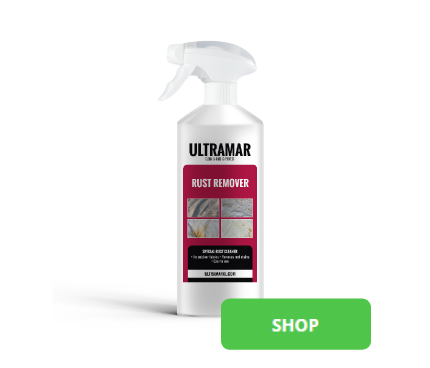 Apply the rust remover generously and evenly with a spray or brush.
Brush in well and leave for around 1 hour.
Do you not see any change? Re-apply and brush in. Let it soak in again. Repeat this until the rust spots have disappeared from the sail. This can sometimes take a few hours.
Rinse well with plenty of water and a brush.

Remove adhesive residue with SAIL NUMBER REMOVER
Remove sticky letters from the sailcloth. If necessary, first spray with Sail Number Remover and allow it to work for ten minutes.
Spray glue residue and brush in.
Leave Sail Number Remover to soak in for 15 minutes.
Remove adhesive residues with water and a brush, sponge or cloth.
If necessary, repeat several times until all adhesive residues have disappeared.
Thoroughly clean the sailcloth with water.
Allow the sailcloth to dry before you apply new numbers.
STEP 3
Protect the sailcloth and make it super water and dirt resistant with SAIL & SPINNAKER COATING
Make sure the sailcloth is clean and dry before treatment.
Apply Ultramar Sail & Spinnaker Coating evenly on the cloth. From left to right and from top to bottom. A thin layer is sufficient.
Use a spray or paint roller for this.
Wait until the sail is dry (approximately 10 minutes). Then treat the other side of the sailcloth.
Let the sailcloth dry thoroughly.
TIP: You can even coat the mainsail on board. Use a paint roller. Apply the coating on both sides of the sailcloth. Raise the sail a bit. Repeat these steps until the sail is completely raised.
Guaranteed result
At Ultramar, we specialize in cleaning and coating sails. Every year we treat over 2000 Dacron and laminate yacht sails and spinnakers in this way. Since 1998!
We use all the products ourselves to treat sails professionally.
The products are ready to use, so they can be used immediately.
Step-by-step plan and products have been developed with more than 20 years of practical experience.
Recommended for years by sailmakers, fabric manufacturers and water sports enthusiasts like you!
Why always clean and coat in 3 steps?
The dirt on your sails never consists of 1 type of dirt. It is sand, soot from exhaust gases, spider droppings, blood from mosquitoes, salt, lime etc. You can never properly remove that with 1 product. Therefore, always clean in 2 steps. You can thus be sure that the sailcloth is perfectly clean. The coating then adheres much better to the fabric. And that in turn ensures that your sails are clean and protected for much longer.
How much do you need?
It is of course difficult to say exactly how much cleaning agent and coating you need. It always depends on the condition of the sailcloth, the size of the sails and how much dirt is on it. Here is an example.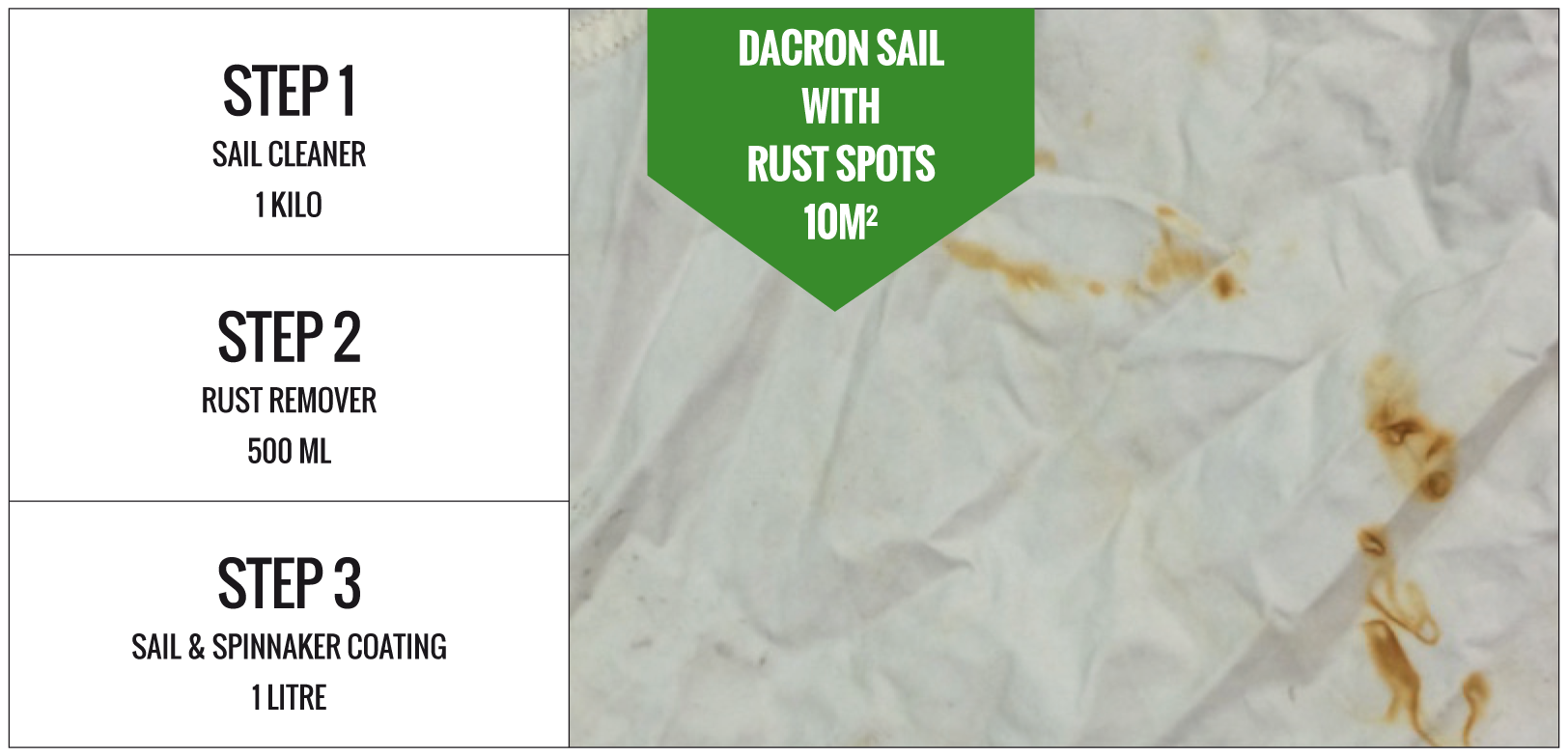 We receive these questions daily.
QUESTION: Why does mould get into my laminate sail?

ANSWER: New sailcloth is treated with a protective coating. The sailmaker puts little holes in the sailcloth when sewing the sail. Moisture enters the laminate through those holes. The result: mould between the laminate. So give a new sail an extra coating immediately. This way you seal the entire sail, and the risk of mould in your expensive laminate sail is considerably smaller.


QUESTION: How long does the Sail & Spinnaker Coating protect?

ANSWER: Practice teaches that many sails treated with our coating still have good protection after 3 years. If necessary, you can always apply an extra coating locally. For example on a clew.
 
QUESTION: Do I have to clean my sail before coating?

ANSWER: Yes, that is best. Otherwise, the dirt gets sealed in. Salt, dirt etc. can also cause the coating to adhere less well. So at least clean your sail with clean water.
 
QUESTION: Why should I coat a spinnaker?

ANSWER: The coating makes an old spinnaker super repellent. But also more airtight and more stable. The spinnaker fills much faster and stays perfectly dry.
This is what others say about us! We are proud of that!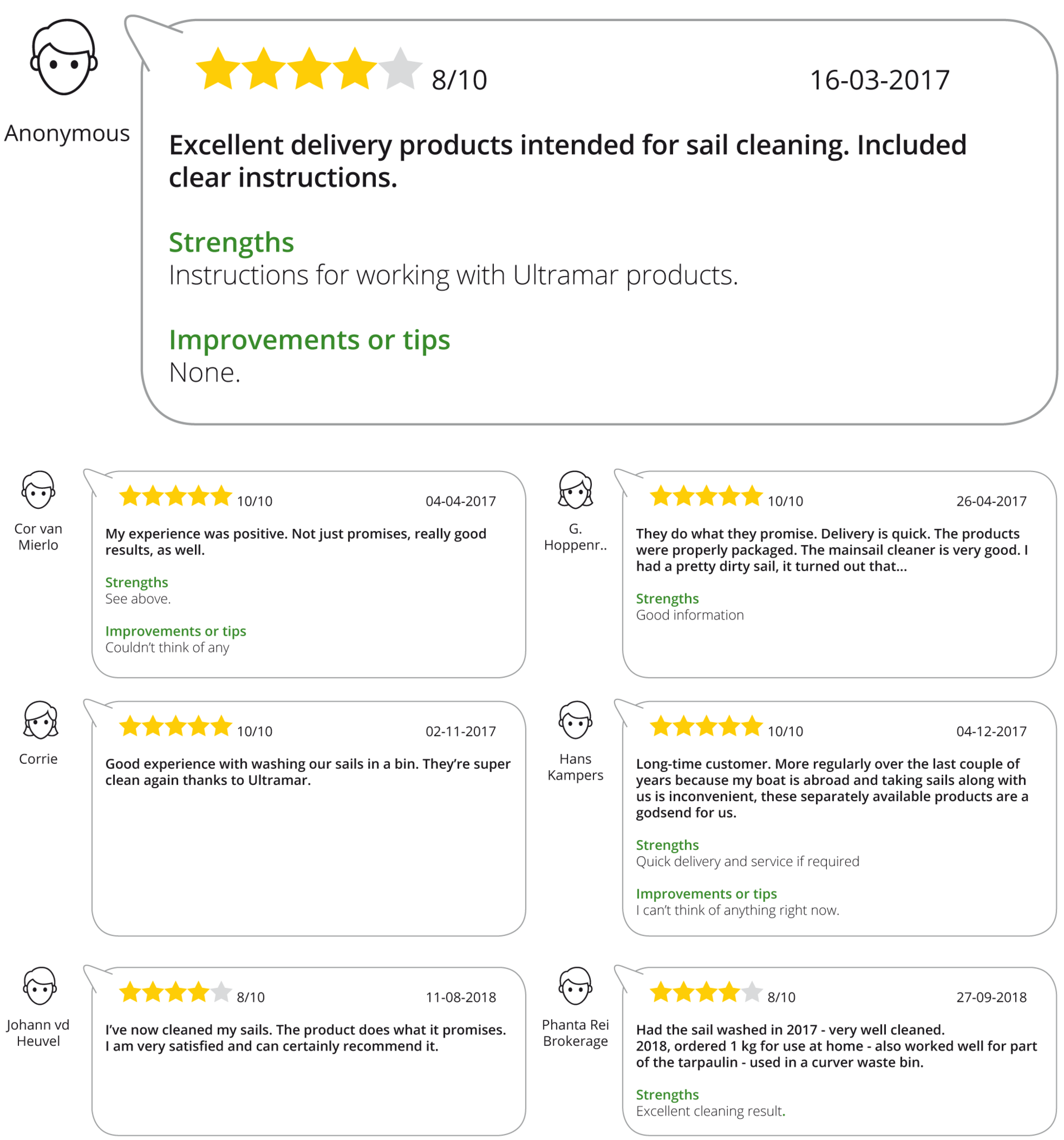 Want to order and receive Ultramar products easily at home?
Delivery time 1 to 2 business days
Free shipping for orders above 50.00
Receive at home or pick up at a parcel shop nearby.
Pay later? That is also possible with Ultramar!