TENT CLEANING & IMPREGNATION
'All the dirt came from our tent. Your products are the best! ' - (REVIEW) Jos and Renate Kouwenberg
'All the dirt came from our tent. Your products are the best! ' - (REVIEW) Jos and Renate Kouwenberg
Does this sound familiar?
... your tent leaks at the seams
... lots of ingrained stains on the canvas
... ugly rain stripes on the tent canopy
... dirty stains from resin and bird droppings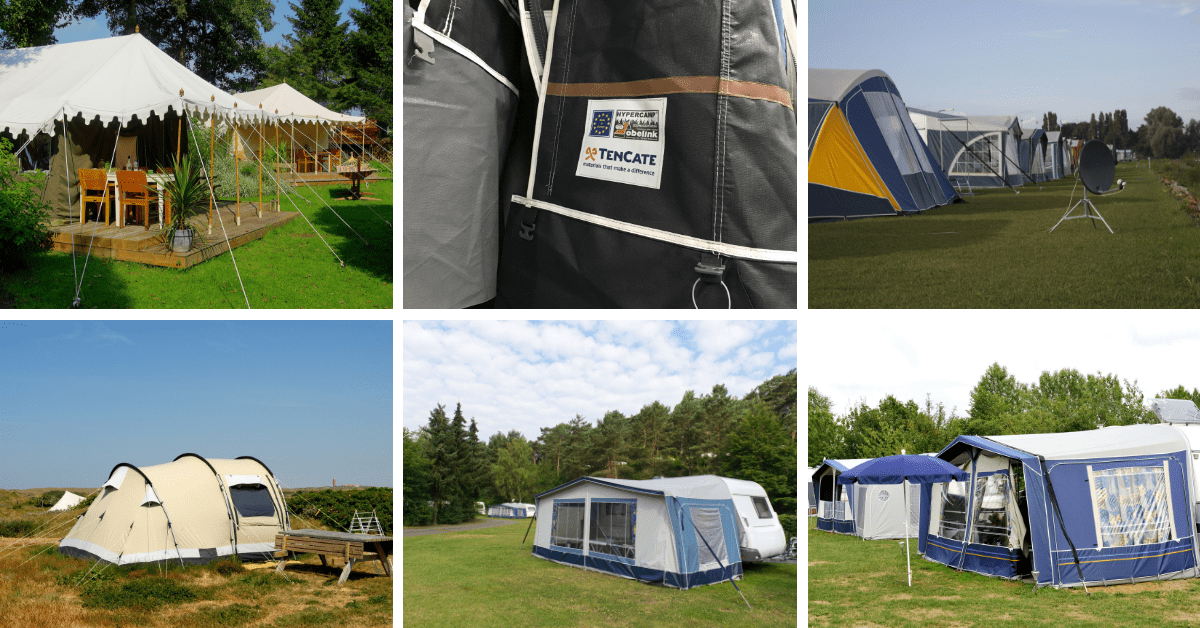 No problem!
Make your tent nice and clean again in 3 simple steps!
In steps 1 and 2 , you can easily remove those annoying moulds, green deposits and rain stripes, and
in step 3, you make the fabric perfectly waterproof again. You give it extra protection against dirt, mould and algae
How does it really work?
This is the basis.
STEP 1
First clean the tent canvas with SPRAYHOOD & TENT SHAMPOO to remove all the dirt.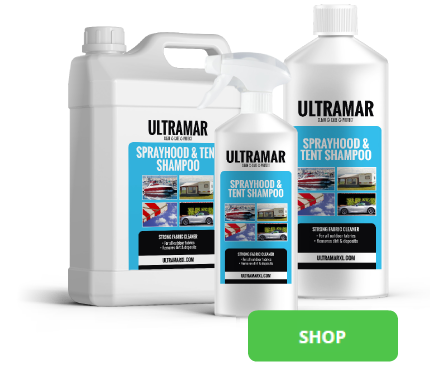 First clean the tent canvas with lukewarm water. Use a soft, sturdy brush.
Spray Sprayhood & Tent Shampoo on the wet cloth. Use a plant sprayer to distribute it well. Use a brush the loosen the dirt.
Leave the shampoo on for around 20 minutes.
Remove the shampoo and dirt with a brush and plenty of water by rinsing and brushing. Rinse thoroughly.
Leave the cloth to dry a little.
Is dirt still visible? Then continue cleaning with Power Cleaner. See step 2.
STEP 2
Remove all stains and heavy dirt with POWER CLEANER.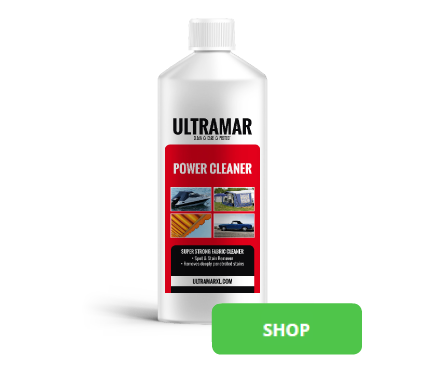 Spray Power Cleaner on your dry tent. Use the spray or plant sprayer again. Then rub in with a soft brush.
Leave on for approximately 1 hour. Do you not see any change? Spray extra Power Cleaner, brush and leave it to work again. Repeat these steps until the spots are gone. This can sometimes take a few hours.
Rinse well afterwards.
Let the tent dry well.
STEP 3
Protect the tent canvas and make it waterproof with SPRAYHOOD & TENT PROTECTOR or CANVAS & COTTON PROTECTOR.
Is the tent canvas made of cotton or cotton/polyester? Use Canvas & Cotton Protector.

(This cloth is often used for a folding tent trailer, safari tent, group tent, teepee tent)

Is the tent canvas made of woven synthetic? Use Sprayhood & Tent Protector.

(This cloth is often used for an awning, caravan awning, bungalow tent.)

Spray the impregnating agent generously and evenly on the dry tent canvas. Use a plant sprayer. Also use on the inside of the roof! This gives you better protection against mould and weather spots on the inside.

Do not allow impregnating agent to dry on windows or varnish etc., but remove immediately with a damp cloth.

Let the canvas dry well. Repeat the treatment as needed.

Are there any drops of impregnating agent left on the windows? Simply wipe with a little white gas.

Then clean the windows with Ultramar Sprayhood & Tent Shampoo.
Guaranteed result
At Ultramar, we specialize in cleaning and waterproofing tents. Every year we treat more than 2000 boat caps, parasols and tents in this way. Since 1998!
We use all the products ourselves to treat tents professionally.
The products are ready to use, so they can be used immediately.
Step-by-step plan and products have been developed with more than 20 years of practical experience.
Recommended for years by well-known tent makers, fabric manufacturers and campers like you!

Why always clean and impregnate in 3 steps?
The dirt on your tent never consists of 1 type of dirt. It is sand, soot from exhaust gases, resin from trees, droppings from insects and birds, salt, lime etc. You can never properly remove that with 1 product. Therefore, always clean in 2 steps. You can thus be sure that the fabric is perfectly clean. The impregnating agent then adheres much better to the canvas. And that in turn ensures that your tent stays clean and watertight for much longer .
How much do you need?
It is of course difficult to say exactly how much cleaning agent and impregnating agent you need. It always depends on the condition of the tent canvas, the size of the tent and how much dirt is on it. Read more examples tent awning
We receive these questions daily.
QUESTION: Do I also have to impregnate the tent on the inside?

ANSWER: Yes, the inside of the tent must also be impregnated. The tent canvas on the inside is in fact very vulnerable and susceptible to fungi and the familiar weather stains.

QUESTION: How often do I have to impregnate my tent?

ANSWER: We recommend impregnating a tent immediately after purchase. This way, the original coating gets a protective layer. After that, it is sufficient to impregnate the tent once or twice a year. In this way the tent canvas remains well protected.
QUESTION: How can I make the seams of my tent waterproof?

ANSWER: You can easily fill the holes in the stitching by spraying the seams a number of times in succession with the impregnating agent.  
QUESTION: Do I have to dilute the shampoo and impregnating agent?

ANSWER: No, our products are ready to use. You thus know for sure that they will work perfectly.  
QUESTION: Can it get on the transparent windows of my tent?

ANSWER: It is not harmful if the shampoo, the Power Cleaner or the impregnating agent gets on the window film. Do you see dried drops of impregnating agent on the windows after impregnation? You can simply remove those with a cloth and a little white gas.  
QUESTION: How can I impregnate a large tent awning?

ANSWER: You can apply our impregnating agents with a plant sprayer. A pressure sprayer is easy for large surfaces. This allows you to spray evenly.

If the awning is very large or high, you can do the following:

Attach the awning to the caravan by sliding the string into the rails
Now let the tent hang
Spray all parts of the tent with the impregnating agent
Now place part of the frame (or the entire frame) under the tent
Make sure that all parts are off the ground and can dry well
This is what others say about us! We are proud of that!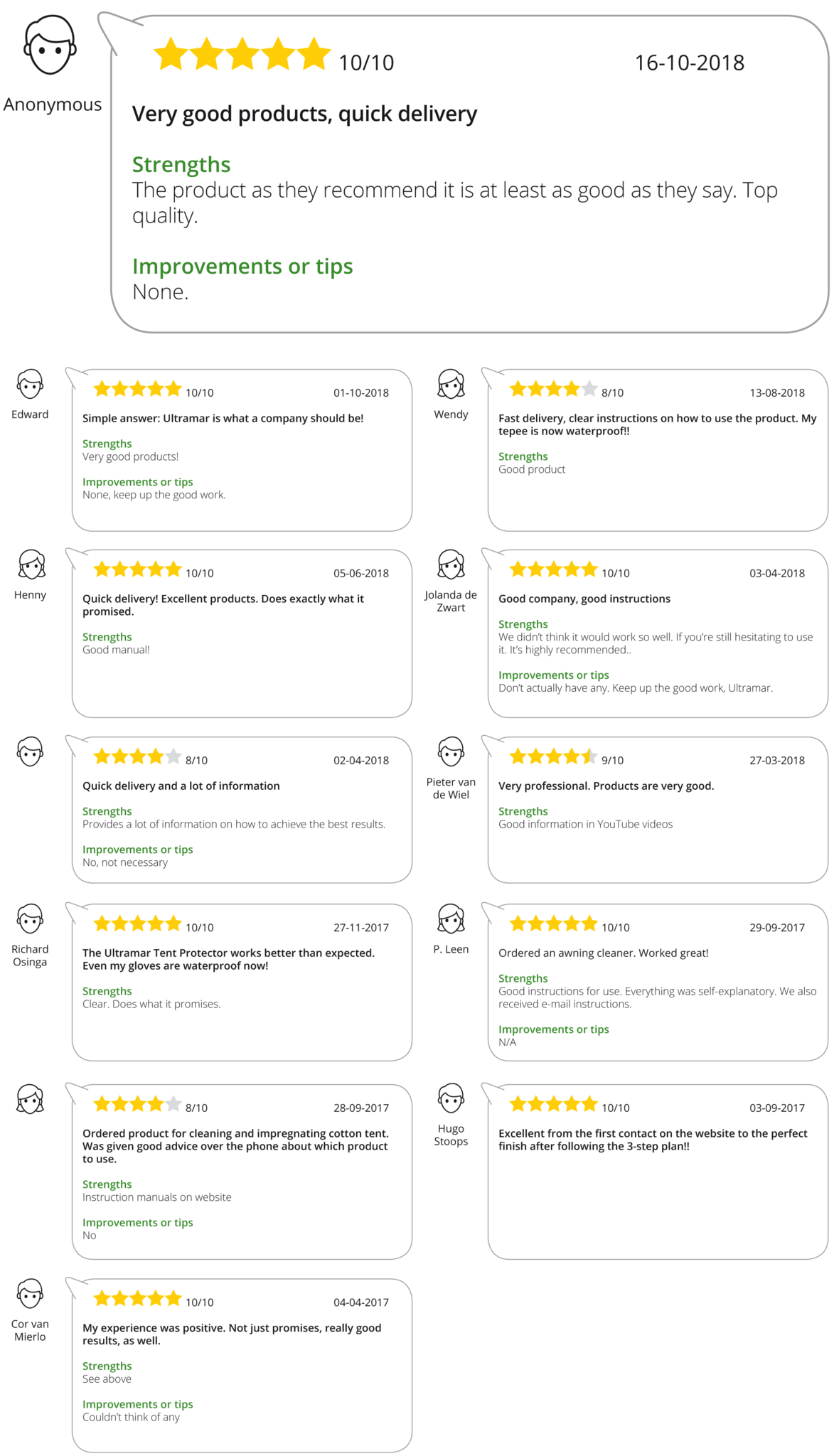 Want to order and receive Ultramar products easily at home?
Delivery time 1 to 2 business days
Free shipping for orders above 50.00
Receive at home or pick up at a parcel shop nearby.
Pay later? That is also possible with Ultramar!