Sailing is your great hobby? Good sailing clothing is a must! Your sailing pleasure stands or falls for a large part with the right outfit. Now it is not very easy to simply indicate what the best sailing clothing is. Several factors play a role. What do you have to pay attention to? Useful tips for purchasing and maintaining sailing gear!
Not too cold and not too hot
Sweating while sailing is not pleasant. And not necessary. However, being shivering behind the helm is not what you are waiting for either. It is also very annoying when you get too wet while sailing. Good sailing clothing prevents these annoying problems. When it comes to the ideal outfit, we quickly end up with different layers. An ideal system specially designed for sailors.
Choosing the best sailing clothing? The 3-layer system
Sailing clothing has different functions. Namely:
stay dry
stay warm
Protect from sunlight
Protect from the wind
The 3-layer system is therefore ideal. Depending on the weather, you may or may not wear a particular layer. Whatever the weather, you are dressed for it. Water, cold, heat, wind or bright sun? No problem with the right sailing outfit.
What does the 3-layer system consist of?
The bottom layer
You wear this first layer directly on your skin. The clothing removes moisture from your skin, so that you stay warm and dry while sailing. For this underlayer, you can, for example, choose thermal clothing from Magic Marine or a polyester shirt. Because cotton gets and stays wet, it is better not to use it with the bottom layer. This underlayer is especially suitable when sailing in cold weather.
The middle layer
If it is warm, you can leave this layer at home. The middle layer mainly ensures that you stay warm. Usually this layer consists of pants and a vest. Cotton is also not recommended here. Take a fleece vest for example. Synthetic is best for the mid-layer. This clothing is not waterproof, but it is water-repellent. Ideal during a cool, but dry day.
Outer layer
This layer comes into direct contact with the water and the wind. This clothing must therefore protect against cold, water and wind. In addition, this outer layer also has to work out all the moisture from the skin, which comes through the lower two layers. These clothes are absolutely waterproof and perfect for when it rains.
Sailing jacket or sailing jacket
A sailing jacket is waterproof and comes to about the height of the belt. A sailing jacket is longer. It comes to below the hips. This also protects the upper legs. In cold and rainy weather, a sailing jacket is therefore more convenient. During a nice day on calmer water, a sailing jacket is also fine.
Sailing trousers with or without shoulder straps
Pants with shoulder straps provide the most protection. You will then be less bothered by wetness and cold. Ideal during a cold and wet autumn or winter day.
Shoes or boots
One isn't necessarily better than the other. This also depends on the situation in which you are going to sail. If you move around the boat a lot, your shoes will feel more comfortable. However, a big advantage of boots is that they are waterproof. Shoes often let water through. Today, however, there are very advanced sailing shoes.
A cap or a hat
Protecting your head is important while sailing. When the sun shines, a cap is useful. If it's cold, opt for a hat. Preferably one that insulates well and does not absorb too much water. So also in this case synthetic is a nice solution.
Sailing clothing maintenance
Have you selected the right outfit with great care and effort? Then you hope to enjoy it for years to come. Good maintenance is indispensable here. Tips for cleaning clothes and impregnating clothes:
Tip 1: Wash sailing clothing before it is dry
Especially when you have been at sea, the clothing requires a quick cleaning. Salt is more likely to cause wear. It is important to rinse well with fresh water as soon as possible. Dried salt is much more difficult to remove.
Tip 2: Always keep the material in mind when cleaning sailing clothing
In most cases, the sailing clothing can simply be washed in the washing machine. However, always pay close attention to the care label. Sometimes the material of the sailing clothing is not suitable for cleaning in the washing machine. Then lay the clothes on the floor and scrub with a soft brush. What is important then?
Lay the clothes flat.
Do this on a slippery spot, so obviously not on the street.
Then hang up, rinse once more and let dry.
Tip 3: Targeted drugs
I sometimes hear from people that they hang their sailing clothes over the boom. Inside out, yes. However, I strongly advise against this. The UV rays are harmful to the seams and coating of the clothing. Hang everything on a hanger right side out. Hang it out of the sun but in the wind. Do not put the clothes away until they are thoroughly dry. Preferably do not fold too tightly. It is better to hang the clothes on a wooden hanger.
Tip 4: Wash water sports clothing with special detergent or not?
In most cases you can simply wash with a normal detergent. However, never use fabric softener. Just use a little bit of liquid detergent. People often think that this is not possible, but even Gore-Tex advises this. There are also special cleaning agents for sailing gear.
Tip 5: Pay attention to the label in the clothing
You can read specific washing instructions in your sailing clothing. Since the method of cleaning depends on the material, you can read exactly what to do there.
Tip 6: Read more useful tips on the Ultramar website
Look up quickly our website for more advice.
How often to impregnate sailing clothing?
After a few washes, the water-repellent layer is no longer like it used to be. The suit, jacket or pants will not immediately leak, but the comfort will be less. Therefore, impregnate the clothing after several washes. In this way you always ensure a new dirt and water-repellent layer. Use a suitable impregnating agent.
Musto GoreTex sailing clothing can be washed in the washing machine and dryer
Specific instructions can be found on the labels. In any case, this sailing clothing benefits from being washed in the washing machine. What do you pay attention to?
Close all fasteners.
Fasten all flaps and straps.
Wash at 40 degrees or lower.
Use little detergent.
Spin as little as possible to avoid creasing.
Preferably rinse twice.
Do not put in the drum at the same time as heavily soiled laundry.
Do not use chlorine bleach.
Cleaning gloves
Clean the gloves in a tub or bucket of lukewarm water and a tiny amount of liquid detergent. Then rinse well with water. As attractive as it is, never let them dry on the heater. You run the risk of them becoming rock hard.
Wash and impregnate sailing clothing
After you have washed the sailing clothing, impregnation is necessary. The water-repellent and dirt-repellent layer do not work as well after several washes.
Gore-Tex watersportkleding
If you opt for quality, you will quickly end up with the Gore-Tex brand. They were the first when it comes to membrane. This breathable fabric is still the best out there. What exactly is the reason that this brand has such good quality?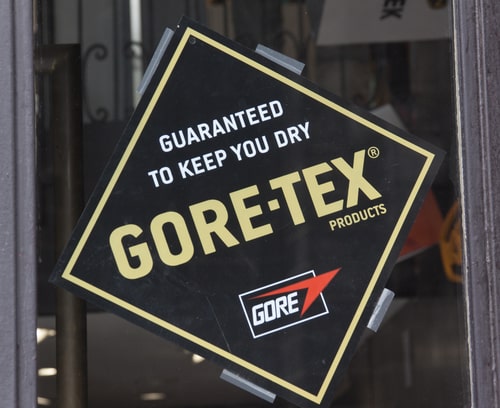 Gore-Tex clothing made up of different layers
Membrane
Inside the textile is an extremely thin membrane. This consists of about 1.4 billion pores per square centimeter. A drop of water is many times larger, so it is not let through. In addition, this clothing is extremely waterproof, because a maximum of 5 liters of air is let through per second.
Laminate flooring
The outer layer consists of so-called laminate. This is a durable water-repellent polymer. Water droplets therefore immediately roll off the clothing. The seams are a problem. Water can pass through it more easily. With Gore-Tex clothing, these are therefore always taped with Gore-Seam tape.
Gore-Tex sailing clothing is perfectly water-repellent, breathable and waterproof
Thanks to the membrane, no drops of water are let through. Water vapor can pass through it. As a result, sweat can simply escape from the clothing. Now it is important to keep your clothing waterproof and breathable. This requires maintenance.
GORE-TEX impregnation
Keep your clothes waterproof! Do you notice that your sailing trousers or sailing jacket sometimes feel a bit clammy? Two reasons can play a role in this:
The water-repellent layer is worn out. Impregnation is a good solution.
The diaphragm is clogged with dirt. Proper washing is probably the best solution. Then dry with heat.
Make your own sailing gear waterproof
You can very well make the clothing water-repellent yourself. How do you apply a protective layer to your sailing gear?
Use Ultramar Oudoor Gear Protector. This spray repels water and has been specially developed for technical textiles, such as sailing clothing and ski clothing.
You spray the liquid on your clothes and let it dry. A very thin layer is sufficient.
In this way your sailing clothing has a new protective layer and will no longer feel clammy.
To enhance the effect, you can add heat when drying. For example by drying in the dryer, or hanging the sailing clothing close to a stove.
In this way you extend the life of the clothing.
Wash GORE-TEX
Is the membrane clogged? Then washing is definitely necessary. Of course you can better anticipate these problems. Wash after use and your clothes will last for years longer. What do you pay attention to when washing Gore-Tex clothing? Some tips and tricks:
Never use fabric softener, stain remover or bleach. This affects the water-repellent material.
Always pay attention to the care label. Follow the regulations strictly.
Do not take the clothes to the laundromat. Violent drugs are often used here. This is not necessary and, moreover, sometimes harmful.
Wash with clothes of similar colours.
Washing separately is not necessary.
Do not spin at high speed.
If the number of degrees is not on the care label, set the washing machine at a maximum of 30 degrees.
Use a normal detergent unless the label says otherwise.
Additional rinsing is recommended. You then know for sure that all soap residue has disappeared.
GORE-TEX drugs
The program has ended. What now? In the dryer? This is a great way to dry your sailing gear. The heat even further stimulates the water-repellent effect of the clothing. So feel free to leave the clothes in the dryer for 20 minutes longer. Preferably at a low temperature and low speed.
No dryer? Let's iron!
You don't have a dryer? Do you want to reactivate the water-repellent layer? Then use an iron. Place a towel between the clothes and the iron and iron for a few minutes. It is important not to use steam.
Know what you are doing and you will enjoy your sailing gear for years to come.